watchOS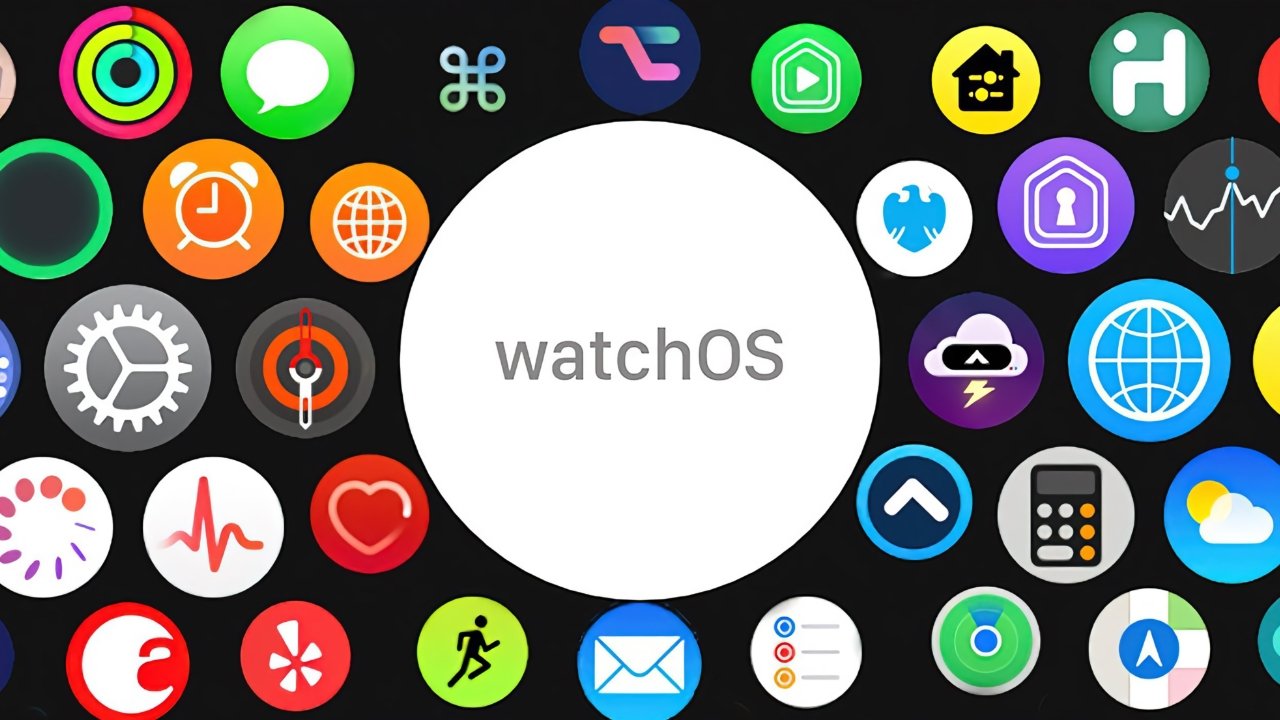 For the past five years, watchOS has evolved from an extension of iOS into a standalone operating system with its own App Store. The relatively new platform has seen multiple large revisions since its launch and each update brings Apple Watch closer to becoming an independent device.
● 31 Apple-designed watch faces
● Customizable complications
● Siri
● Workout tracking
● Sleep tracking
● On-device App Store
● Launched in 2015
Page last updated: 2 weeks ago
---
Apple announced the Apple Watch and watchOS months ahead of their eventual release. The September 2014 iPhone keynote included a "one more thing" moment, showing off the Apple Watch for the first time. The wearable finally launched in the spring of 2015 with an iPhone-dependent operating system.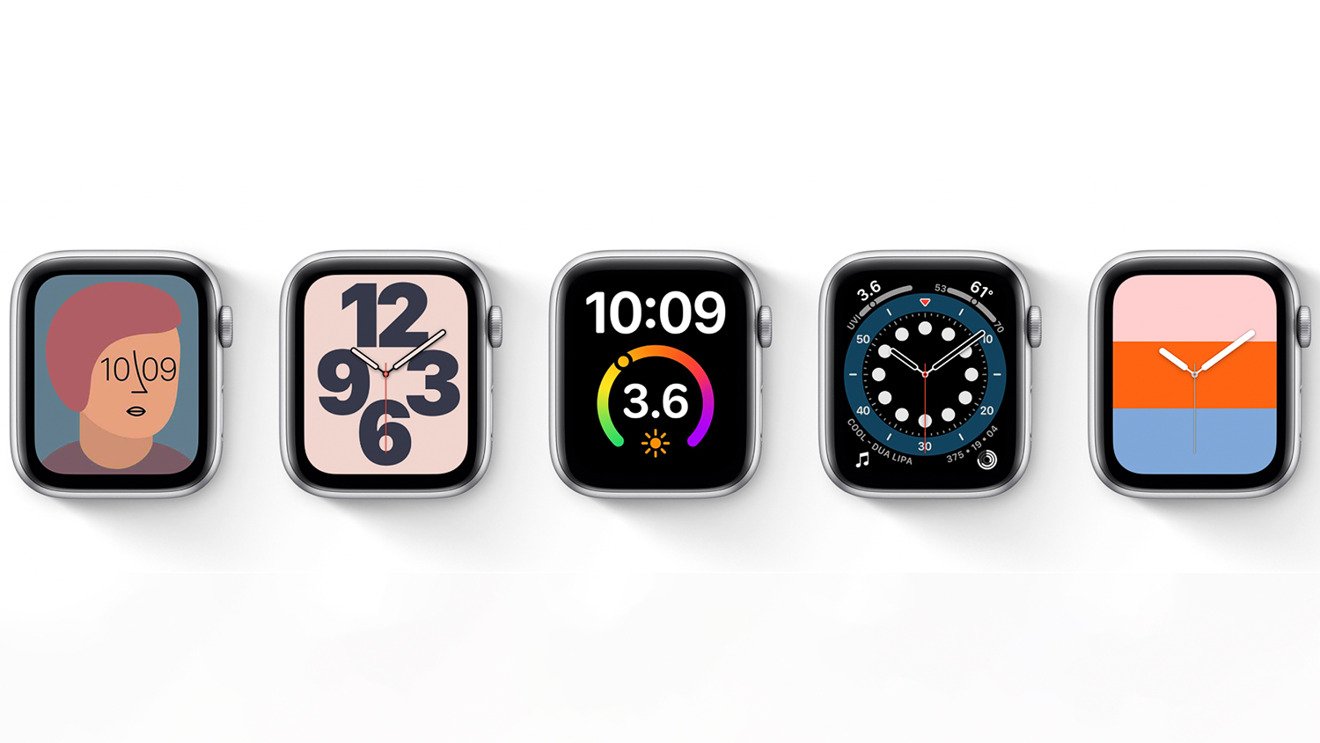 In the following years, hardware and software advances have allowed the Apple Watch to detach itself from the iPhone. Now users only need an iPhone to set it up for the first time, after which the device can perform tasks independent of a smartphone.
watchOS Features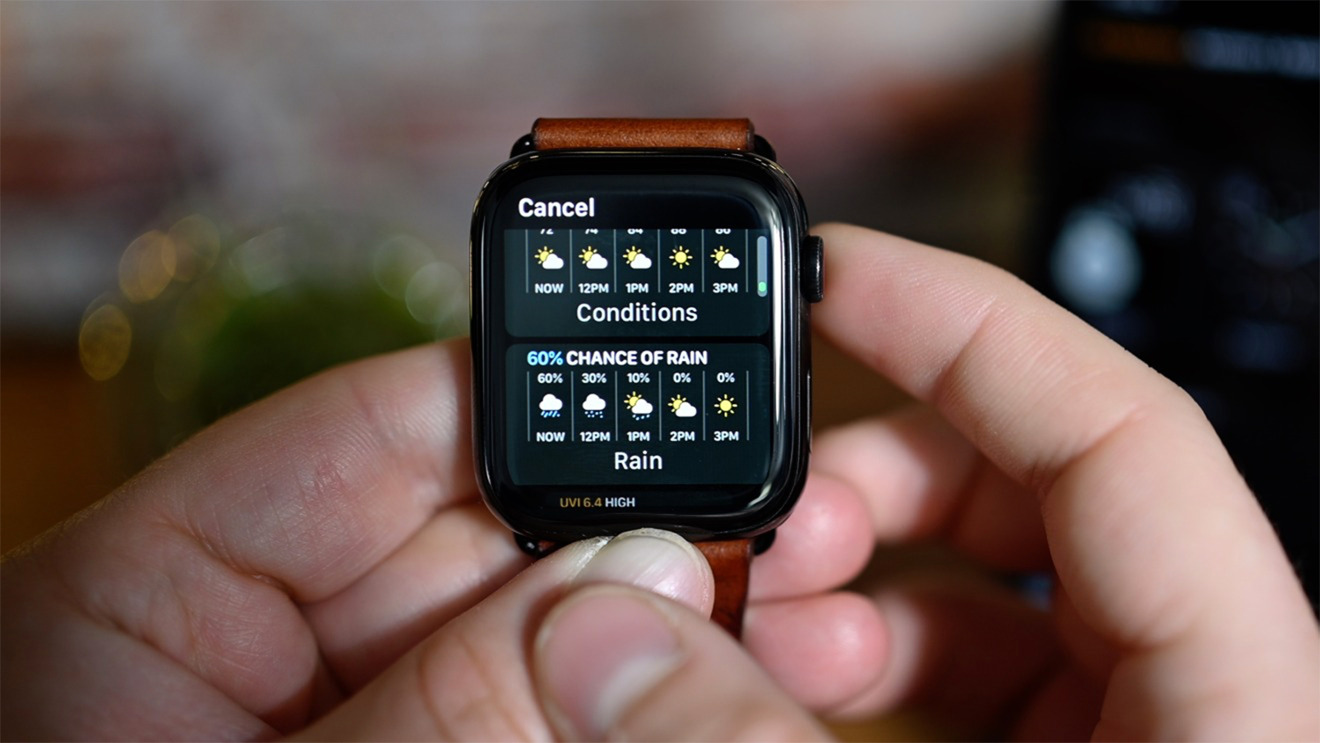 Apple built watchOS as an extension of iOS in both look and feel. Tapping and swiping gestures make up most of the software's interactions. The Digital Crown adds a physical scroll-wheel function. Iconography and interface elements take on rounded shapes for better presentation and readability on the tiny display.
Apple Watch has matured into a sophisticated device, with fitness, health, and convenience driving the device's use case.
Fitness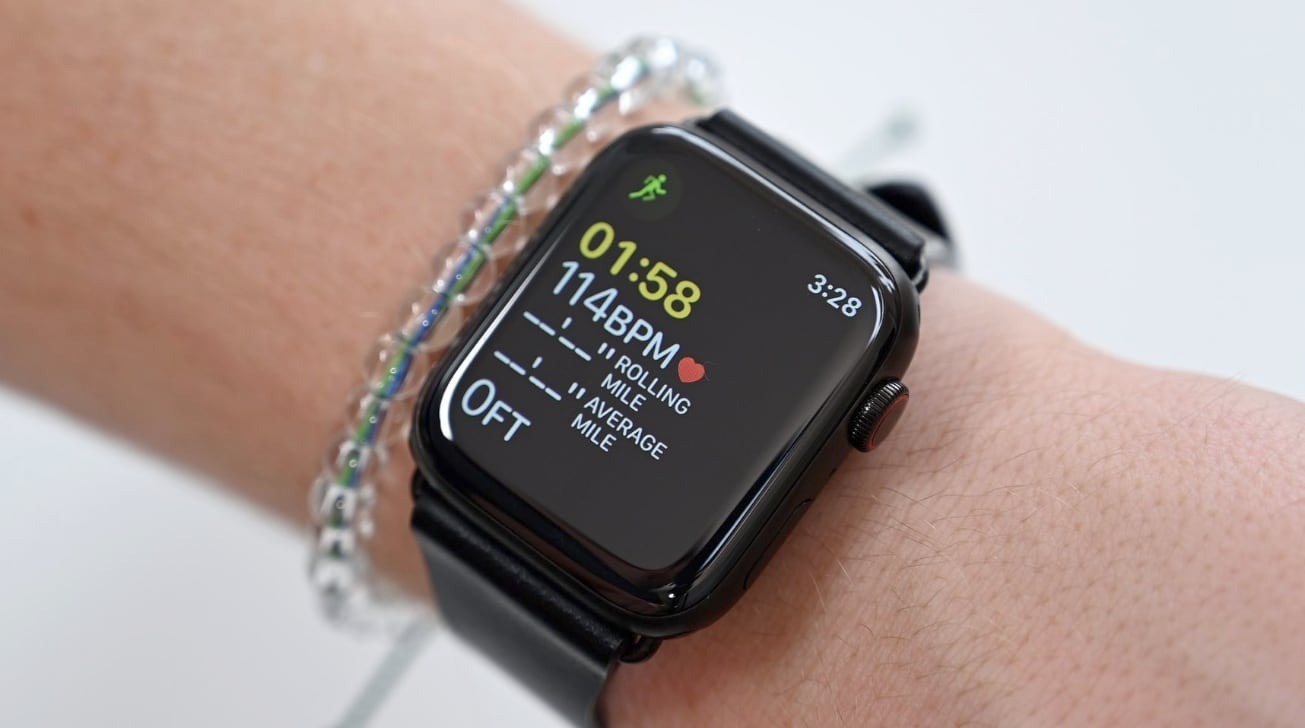 First and foremost, Apple Watch is a fitness device. Among other metrics, the Apple Watch tracks users' active-calories burn, exercise hours, and stand hours.
watchOS includes automatic tracking features that can detect what a user is doing throughout the day. The accelerometers, heart-rate sensor, and barometer can work together to determine if a user is walking, running, or swimming.
Apple includes the Workout app to start specific workouts with different goals. The Activity app displays a user's metrics with a system of concentric rings. The Activity app also tracks medals Activity Challenge medals, and it lets you challenge your friends to workout competitions.
Third-party apps can tap into the Apple Watch's sensors to provide specialized workout apps and activity apps like yoga tracking or guided five-minute workouts.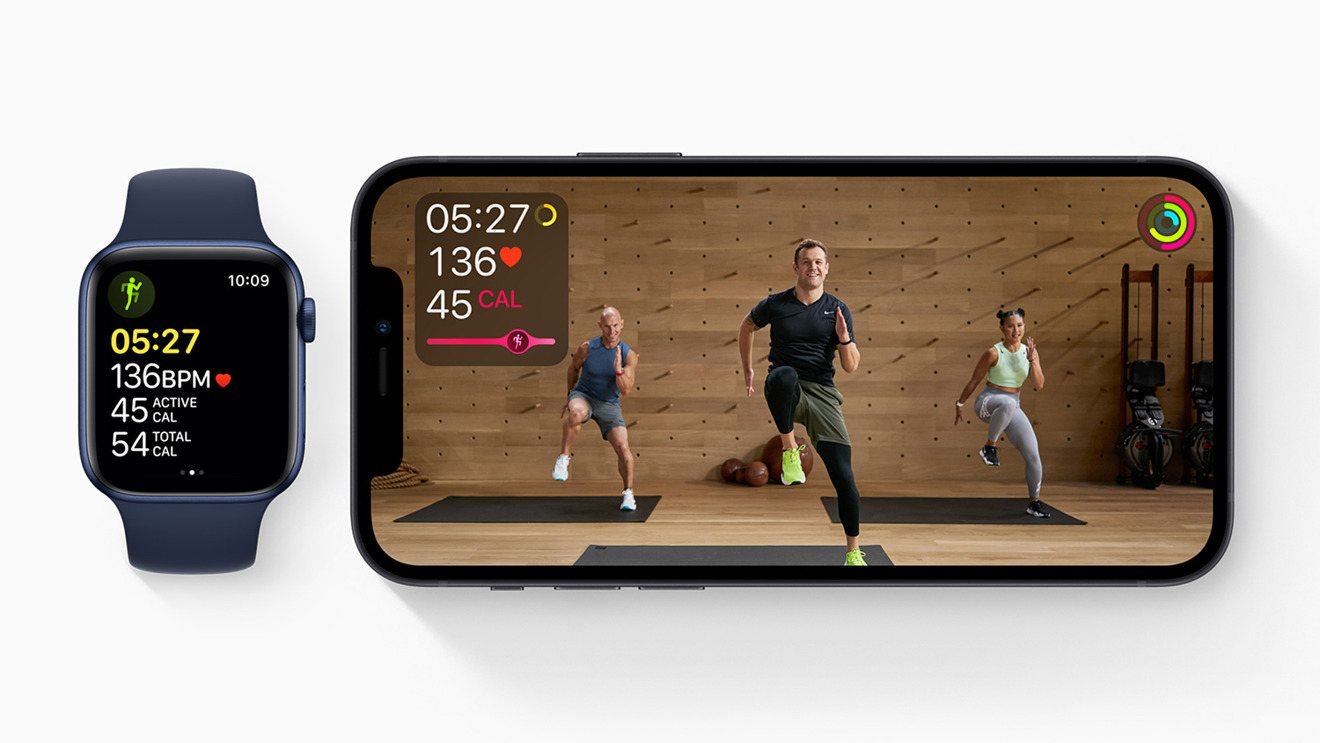 In late 2020, Apple Fitness+ launched, providing Apple Watch owners with a home workout service. Designed to compete with services like Peloton, Apple Fitness+ streams a continually updated series of fitness videos from Apple's in-house instructors. It syncs with the Apple Watch, displaying user metrics onscreen.
Apple Fitness+ requires watchOS 7. It costs $9.99 per month and is also available as part of Apple One bundles.
Health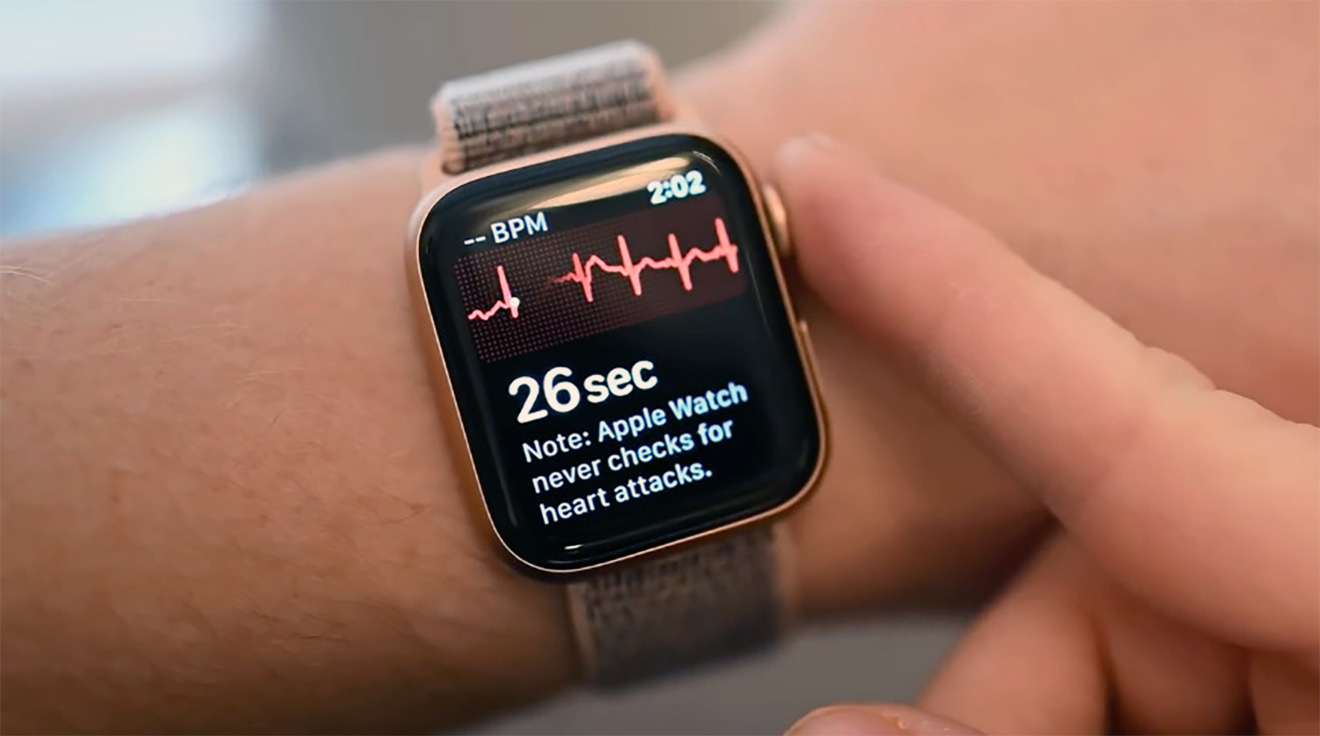 Apple didn't initially position health features as the Apple Watch's focus, but health quickly became the platform's cornerstone. Today, watchOS tracks various sensors on the Apple Watch, trying to warn users of potential health issues as they arise.
The heart-rate sensor tracks a user's heart rate every five minutes when being worn, and every minute when a workout is active. If it sense a dangerous condition or abnormal heartbeat, it notifies users and askes them to seek medical attention.
Automatic fall detection uses algorithms to determine if a person has abruptly fallen and remains motionless. If the feature is enabled and it senses that the user is unresponsive, the Apple Watch will call emergency services, like 911 in the U.S.
Debuting in the Apple Watch Series 4, the built-in ECG lets you measure your heart electrical activity using the Digital Crown. If an AFib is detected, you'll be alerted to see a doctor for more advanced screening.
Apple Watch has been known to save lives on many occasions with its various alerts and features built into watchOS.
Customization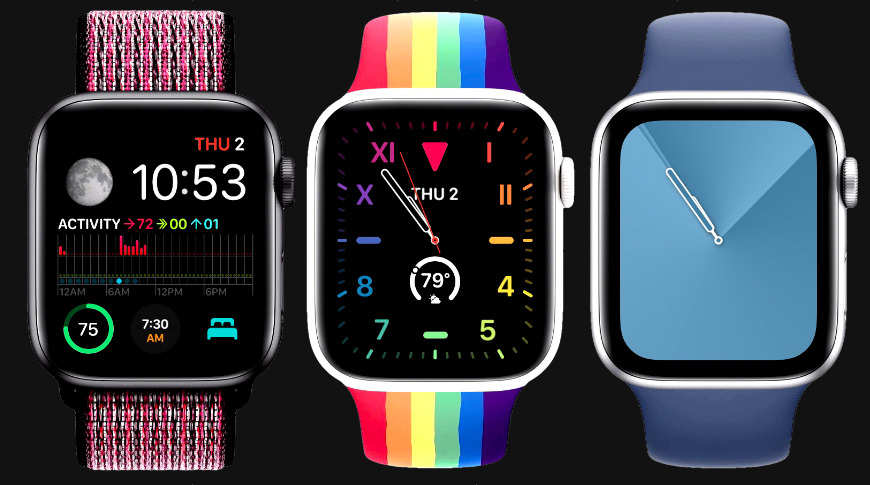 Apple may not allow third-party watch faces on watchOS, but you can get pretty close using the built-in customization features. The watch faces have small widgets visible called "complications" that can be changed to whatever the user wants.
Developers can build complications for their apps, which will automatically populate the complication picker in the watch customization interface. As of watchOS 7, users can display multiple complications from the same app on the same watch face.
iOS 14 and watchOS 7 both enable users to share their customized watch faces over iMessage. The feature prompts users to install any missing apps when clicking on a shared watch face. Apple is also planning on releasing editorialized content in the App Store that suggest specific watch face configurations.
The Apple Watch Series 5 and later have always-on displays, which will dim slightly when not in use, showing updated information on a slightly altered version of the user's watch face.
watchOS Releases
Through the years of releases, watchOS has seen multiple design changes and feature updates. The current operating system is vastly different than what was released in 2015, as Apple has learned what users want from the platform and changed it accordingly.
watchOS 7
Announced at WWDC 2020, launched in September
Watch faces can now have multiple complications from the same app
Watch face sharing lets users send their current watch face to a friend via an iMessage
Sleep tracking gives you basic sleep stats and wake you up with a tap
New workouts include dance, Functional Strength Training, Core Training, and post-workout cooldown
Cycling directions are available in Apple Maps and will alert users of upcoming obstacles like stairs
A hand washing timer starts automatically and alerts users if they have not washed long enough
Siri translates conversations from your Apple Watch
Siri Shortcuts work natively on the watch via the app or complication
Headphone volume can automatically adjust based on playback history to conserve hearing
watchOS 6
Released in September 2019
Activity Trends in the Health app show users what their data may mean and what to do to improve
Cycle tracking is now possible, and a specific app and complication were added to the Watch
Hearing health is tracked via the microphone and users will be alerted when environments are too loud
The App Store is built into the Apple Watch and lets users install and purchase apps locally on the device
watchOS 5
Released in September 2018
Workout competitions let users challenge each other to complete different goals over a time
Workout auto-detection starts a workout as soon as a compatible workout is detected
Added Yoga and Hiking workouts
New Podcasts app with local storage for offline listening
Walkie-Talkie lets users contact each other using FaceTime Audio with quick back-and-forth communications
Siri watch face adds third-party app support
watchOS 4
Released in September 2017
New Siri watch face that surfaces content and notifications throughout the day
Added Toy Story and Kaleidoscope faces
Monthly Activity Challenges with medals awarded in the Activity app
Workout app redesign
Added High-Intensity Interval Training
Workouts can be chained together in one session
New heart rate measurements and high heart rate notifications
Apple Music app redesigned
Apple News app added
Home screen list view added
Apple Pay Cash
Radio app
watchOS 3
Released in September 2016
Dock has a favorite apps section
Dock now contains up to 10 apps
Switch watch faces with a swipe
Control Center toggled with swipe up
New faces include Minnie Mouse, Activity, and Numerals
Apple Watch app on iPhone gains watch face gallery
Share activity rings with friends
Quick start workouts with previous settings
Auto-pause workouts from lack of activity
Wheelchair workouts and tracking added
Breathe app added and alerts users regularly to breathe and meditate for a moment
Scribble keyboard lets users draw letters rather than type them on the small display
Emergency SOS will call emergency services and alert emergency contacts when the Side Button is held down
Home, Reminders, and Find My apps added
watchOS 2
Released in September 2015
Overhauled experience with speed in mind
New watch faces include Time-lapse and Photo
Time Travel function (later removed) let users scroll the Digital Crown to view complications as they would appear over time
Nightstand mode shows the time and date when Apple Watch is charging vertically
Siri can control HomeKit devices, make FaceTime audio calls, and start a workout
Friends can have more than 12 friends with support for groups (Friends functionality was later removed)
Beats 1 Radio support
Reply to email using dictation
watchOS 1
Released with Apple Watch in Spring 2015
Nine watch faces included at launch
Twenty stock apps
Circular app icons on the home screen placed in a grid
Digital Crown navigation features
Digital Touch, heartbeat sharing, and app dock central to the experience