Sprint schedules Oct. 7 event amid iPhone rumors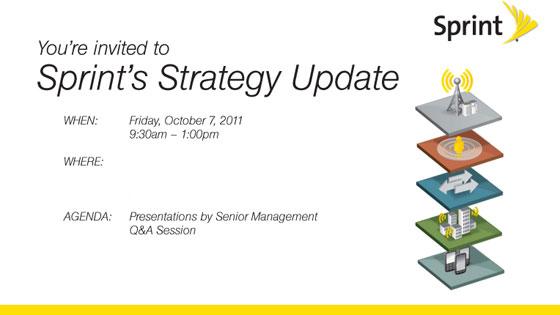 Sprint has scheduled a "Strategy Update" presentation for Friday, Oct. 7, around the same time the carrier is rumored to begin offering Apple's iPhone.
Earlier this month The Wall Street Journal claimed that Sprint will join AT&T and Verizon in introducing a new iPhone in mid-October. Currently, the iPhone is only available to Verizon and AT&T customers in the U.S.
Sprint this week sent out invitations to members of the press advertising an event dubbed "Sprint's Strategy Update." It will feature presentations by senior management at the carrier, along with a Q&A session.
This is my next suggested the event is "likely" to be about the carrier's high-speed 4G network plans, but also said that "maybe" the presentation could also be related to the next iPhone.
"We'd be surprised if this was the event to announce it, but the past month of tech news has been crazy enough that anything could happen," they wrote.
While new iPhone models have typically been introduced at Apple events, a CDMA variant of the iPhone 4 compatible with Verizon's network was unveiled this January at an event hosted in New York City by Verizon, not Apple. But that was a unique situation for an out-of-cycle upgrade that arrived months after the iPhone 4 debuted on AT&T's network.
Apple is expected to introduce its new fifth-generation iPhone this fall, with the latest rumors pointing toward a mid-October launch. Some reports have suggested the next iPhone will be a "world phone" capable of connecting to both GSM networks, like AT&T, as well as CDMA, like Verizon and Sprint, without the need for two separate models.
This past weekend, a leaked memo from Sprint revealed that employees of the carrier have been instructed to simply state "no comment" when they are asked about the iPhone. Employees have been told to say they are familiar with news reports suggesting the iPhone is coming to Sprint, but to say they don't have any information to share.