Apple revises estimated shipping times in its online store [u]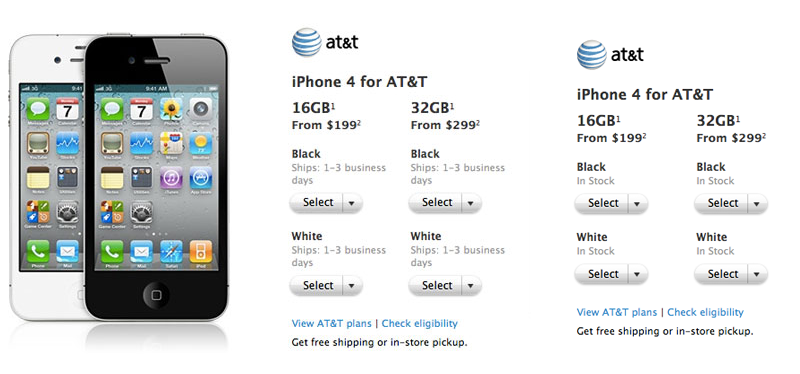 A day after shipping times slipped for a number of Apple products — most notably the soon-to-be-updated iPhone — the company has modified estimated shipping times to show items "in stock" rather than shipping within 24 hours.
Update: Users are still able to see how long it is estimated to take for some products with limited availability to ship. But previously, well-stocked devices were advertised to ship within 24 hours, while now they are simply presented as "in stock" with no timetable for shipment.
On Thursday, AppleInsider noted that U.S. iPhone 4 order ship times had slipped to one to three business days, from their previous estimated shipping of within 24 hours. The slower shipping applied not only to all models of the iPhone 4 stateside, but a number of other products in the Apple store.
But on Friday, as noted by AppleBitch, Apple opted to remove estimated shipping times for in-stock items. Now, users are simply able to see whether a product is "in stock," and no turnaround time is given.
For items with limited availability, estimated shipping times are still provided. For example, the new 27-inch Cinema Display with Thunderbolt is estimated to ship within two to three weeks.
It is unknown whether the "in stock" indicator has simply replaced the 24-hour shipping window, or if "in stock" also includes hardware that might take a few extra days to ship.
Shipping times have been a good indication of Apple's available inventory of a given device. The company will typically draw down its production of hardware before a new model is introduced; for example, in February shipping times for the MacBook Pro slipped to three to five days just prior to a refresh of the notebooks.
Shipping times can also reveal when Apple is struggling to meet up with demand, as was the case earlier this year, when iPad 2 orders at launch were estimated to ship in four to five weeks. As Apple eventually caught up with demand, the estimated shipping times gradually improved.
AppleInsider has affiliate partnerships and may earn commission on products purchased through affiliate links. These partnerships do not influence our editorial content.