Apple catches up with iPhone 5s demand, achieves full availability at its stores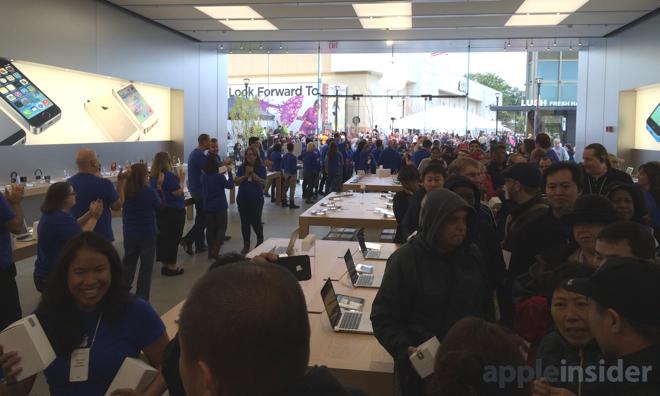 AppleInsider may earn an affiliate commission on purchases made through links on our site.
Apple appears to have completely caught up with consumer demand for its flagship iPhone 5s, with a new survey of the company's retail stores finding all models completely in stock at all locations.

An Apple Store grand opening in October. Credit: AppleInsider reader Ryan.
The research team at investment firm Piper Jaffray has conducted bi-weekly polls of 60 U.S. Apple Stores. They found that as of last week, all models of the iPhone 5s were 100 percent in stock at all locations polled.
That availability even includes unlocked iPhone 5s models, which can be purchased at full unsubsidized pricing starting at $649 for the 16-gigabyte entry-level capacity.
Analyst Gene Munster said the survey shows that supply of the iPhone 5s has improved "dramatically" from just two weeks ago, when only 24 percent of Apple's retail stores were found to have all iPhone models in stock. In contrast, just 8 percent of Apple's stores had full iPhone availability at the start of October.
"We believe Apple has caught up to demand, which we had expected ahead of the core holiday period," Munster wrote. "In reflecting on the supply for the 5S product launch overall, we believe that net-net Apple has done a better job in supplying stores with phones proportional to demand."
Complete retail availability of the iPhone 5s comes as online shipping times have also improved to just one to three days for all models. Shipping times have expedited quickly, improving from three to five days just a few weeks ago.
Since its launch in September, the iPhone 5s has faced supply constraints as Apple was reportedly affected by low yields of the Touch ID fingerprint sensor. Reports from Apple's supply chain suggested the company was having difficulty ramping up production to its usual levels.
Supply of the iPhone 5s was said to be plentiful over the Black Friday holiday shopping weekend at both Apple's own retail stores, U.S. carrier partners AT&T, Verizon and Sprint, and resellers such as Best Buy and Walmart.
Piper Jaffray has predicted that iPhone sales will grow 16 percent year over year in the current December quarter. Munster has also forecast that iPhone sales in the March 2014 quarter will grow 12 percent.