Mobile app use surged 115% in 2013, messaging & social apps saw most growth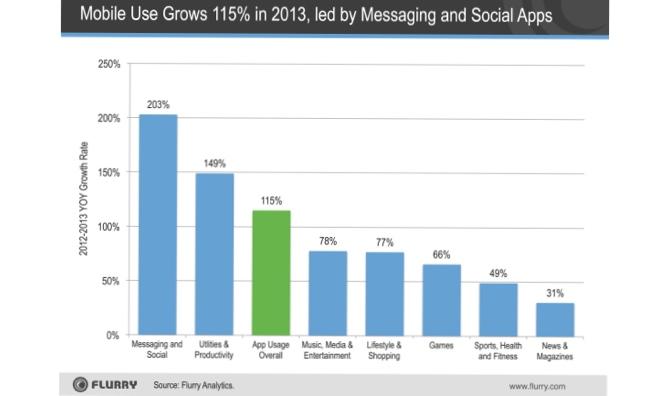 AppleInsider may earn an affiliate commission on purchases made through links on our site.
Led by an explosion in use of messaging and social applications, mobile apps for smartphones like Apple's iPhone saw a 115 percent increase in overall usage in 2013, according to new data.
Analytics firm Flurry posted figures looking back on app usage in 2013 on its official blog on Monday. The data reveals that growth last year was driven by messaging and social networking applications, which increased in year over year usage by 203 percent.
Some of the most popular options in that category were Snapchat, WhatsApp, Facebook Messenger, WeChat, KakaoTalk, and LINE.
"At Flurry, we are fascinated by the growth, the retention rate, the reach and the frequency for this category," Flurry Chief Executive Simon Khalaf wrote.
Also leading the way were utilities and productivity applications, which grew 149 percent in usage last year. Both utilities and social apps outpaced overall app usage, leading the growth seen in 2013.
App categories with below-average, but still significant, growth levels included music, media and entertainment (78 percent); lifestyle and shopping (77 percent); games (66 percent); sports, health and fitness (49 percent); and news and magazines (31 percent).
In all, Flurry Analytics tracked 1.126 trillion app sessions in calendar 2013, with 4.7 billion sessions tracked on Dec. 31 alone.
Last month, Flurry revealed that activations of Apple devices grew to 2.3 times more than their normal average on Christmas Day. The big winner for Christmas, though, was Amazon, which saw daily activations surge 24 times — Â a sign that the retailer's inexpensive, low-margin products make for popular gifts.