Tim Cook meets with UAE prime minister, visits Apple resellers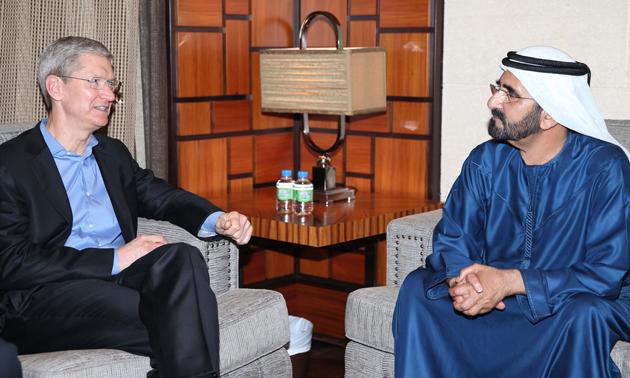 AppleInsider is supported by its audience and may earn commission as an Amazon Associate and affiliate partner on qualifying purchases. These affiliate partnerships do not influence our editorial content.
Apple CEO Tim Cook met with UAE Vice-President and Prime Minister Shaikh Mohammed bin Rashid Al Maktoum on Sunday local time, where the two discussed various topics ranging from the region's burgeoning IT sector to education.
During the sit-down session, Shaikh Mohammed lauded Apple's role in defining technology-driven education programs around the world, while Cook commended the UAE for its rollout of "e-government" programs, the Khaleej Times reported.
Details of the meeting are unknown, though some speculate Apple is in talks to supply the country with devices for education initiatives. The move would be similar to a rumored Turkish deal that could see the purchase of as many as 13.1 million iPads worth between $3 billion and $4 billion over a four-year period.
While in the region, Cook visited official Apple resellers like the Virgin Megastore in Abu Dhabi and Jacky's Electronics in Dubai, reports tbreak.ae. The total number of outlets visited is unknown, but employees from multiple stores posted photos of Cook appearances to Twitter.
As Apple lacks an official retail presence in the Emirates, Cook's tour of the country sparked rumors that the company may be scouting locations for a future flagship Apple Store. One possibility would be the Burj Khalifa — the world's tallest building — where the Apple chief was spotted on Sunday.
Counting Shaikh Mohammed, Cook has met with two heads of state in as many days. On Friday, the Apple chief discussed taxes and future regional operations with Ireland's Taoiseach Enda Kenny.