Apple previews Final Cut Pro 10.4 update with 8K timeline alongside new iMac Pro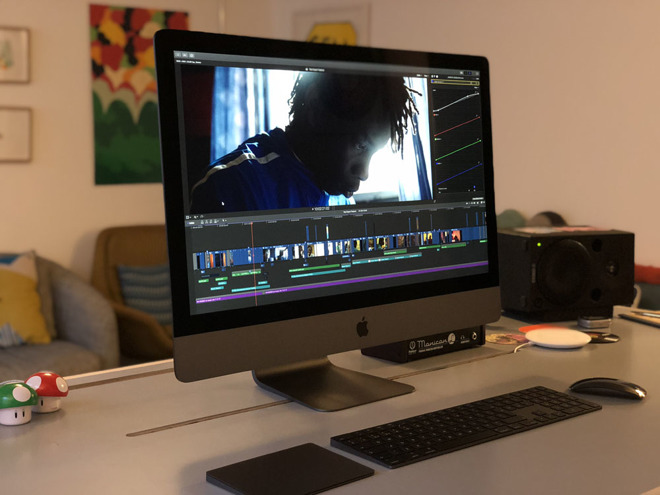 AppleInsider may earn an affiliate commission on purchases made through links on our site.
In addition to giving testers a first look at the new iMac Pro desktop, Apple also supplied them with an upcoming release of Final Cut Pro X, which will add support for an 8K-resolution timeline and 8K ProRes files.
With the new iMac Pro and its 27-inch Retina 5K display set to go on sale this Thursday, it would appear that the Final Cut Pro update is also near-final. Accordingly, testers were given a preview with their early look at the iMac Pro.
postPerspective's Thomas Grove Carter had the opportunity to test Final Cut Pro 10.4 and came away impressed. In one test, he exported a 90-minute feature film in ProRes HD, and the process took just just 2 minutes and 34 seconds.
In another test, he took 8K footage shot on a Panavision Millennium DXL, and found that the iMac Pro with Final Cut Pro 10.4 handled the 8K ProRes 4:4:4:4 files perfectly.
"Even after adding a couple of color corrections and a blur to the clips it still didn't drop a frame," Carter wrote. "I should add that this was playing back at better quality and without rendering. I'll repeat that once more. 8K. Color correction. Blur. No rendering. No '1/4 quality' BS. No frames dropped."
Other tests included less common codec R3D, and Red RAW files stored on an external drive, as well as shared storage over 10-Gigabit Ethernet. In every case, Carter said he was blown away by the results.
"For me, if an equally powerful Mac Pro existed, I'd still choose this iMac Pro over it, because I love the all-in-one compact design and the way it sits in my edit suite," he said. "I can't wait to use the iMac Pro for genuine work and really put it through its paces. I'm slightly dizzied by its power, and the potential that power has for delivering amazing work."
In addition to 8K rendering, Final Cut Pro 10.4 will also add support for virtual reality footage, high dynamic range lighting, and HEVC compression. The professional editing suite is available for purchase from the Mac App Store for $299.99.