Apple's $4,999 all-in-one iMac Pro launches Thursday, Dec. 14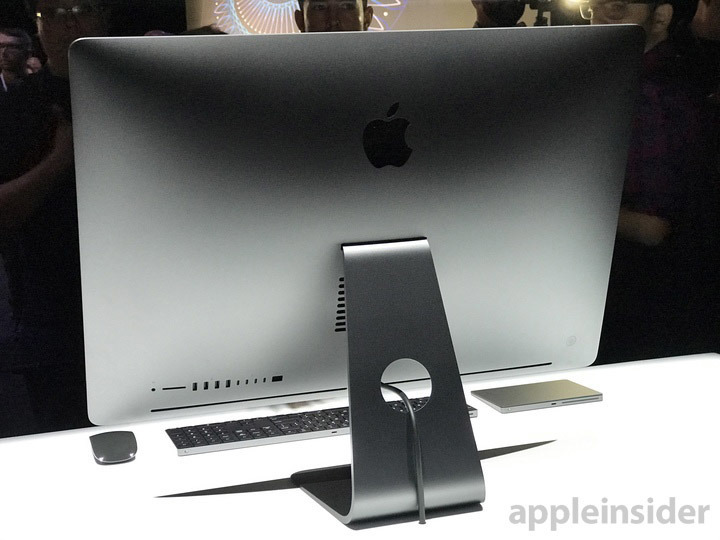 After being announced in June, the premium iMac Pro is finally ready to begin shipping to consumers this week, as Apple has announced that the new desktop will be available this Thursday, Dec. 14.
As expected, the iMac Pro carries a hefty starting price of $4,999. Pricing for optional upgrades to the machine is not yet available.
The entry-level model features an 8-core processor with 32 gigabytes of RAM and a 1-terabyte solid-state hard drive. With a 27-inch Retina 5K display, the chassis boasts four Thunderbolt 3 USB-C ports, four full-size USB 3 ports, an SDXC card slot, and 10Gb Ethernet.
With a unique space gray design exclusive to the pro model, the iMac Pro ships with a matching space gray Magic Keyboard with numeric keypad and Magic Mouse 2. Users can optionally swap the mouse for a space gray Magic Trackpad 2.
In terms of graphics, the iMac Pro has a Radeon Pro Vega 56 GPU with 8 gigabytes of HBM2 memory. Optional upgrades allow it to be configured to Radeon Pro Vega 64 with 16GB of HBM2 memory.
The processor can also be expanded to 10- and 18-core options, while RAM can be upgraded to 64 or 128 gigabytes. And the SSD is also configurable to 2 or 4 terabytes of storage.
AppleInsider first received word on Monday that Apple's enterprise channels were gearing up for business sales of the iMac Pro. Though Apple representatives were inquiring with clients about custom configurations of the desktop, pricing information beyond the $4,999 starting point was not given.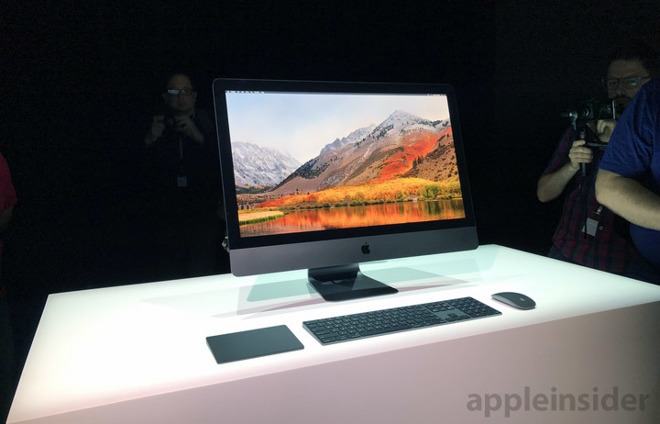 The iMac Pro was unveiled at Apple's Worldwide Developers Conference in June, aiming to satisfy professional-grade Mac users who have felt neglected by the company's desktop offerings in recent years. The update marks the first time that the iMac, typically a consumer-focused machine, has been given the "Pro" distinction.
The company is also working on a new, modular Mac Pro desktop that may arrive in 2018, but details on the machine, its capabilities and the launch date have been limited. Apple has also said it will begin manufacturing its own displays once again, bringing a successor to the Thunderbolt Display at some point in the future.