Apple Watch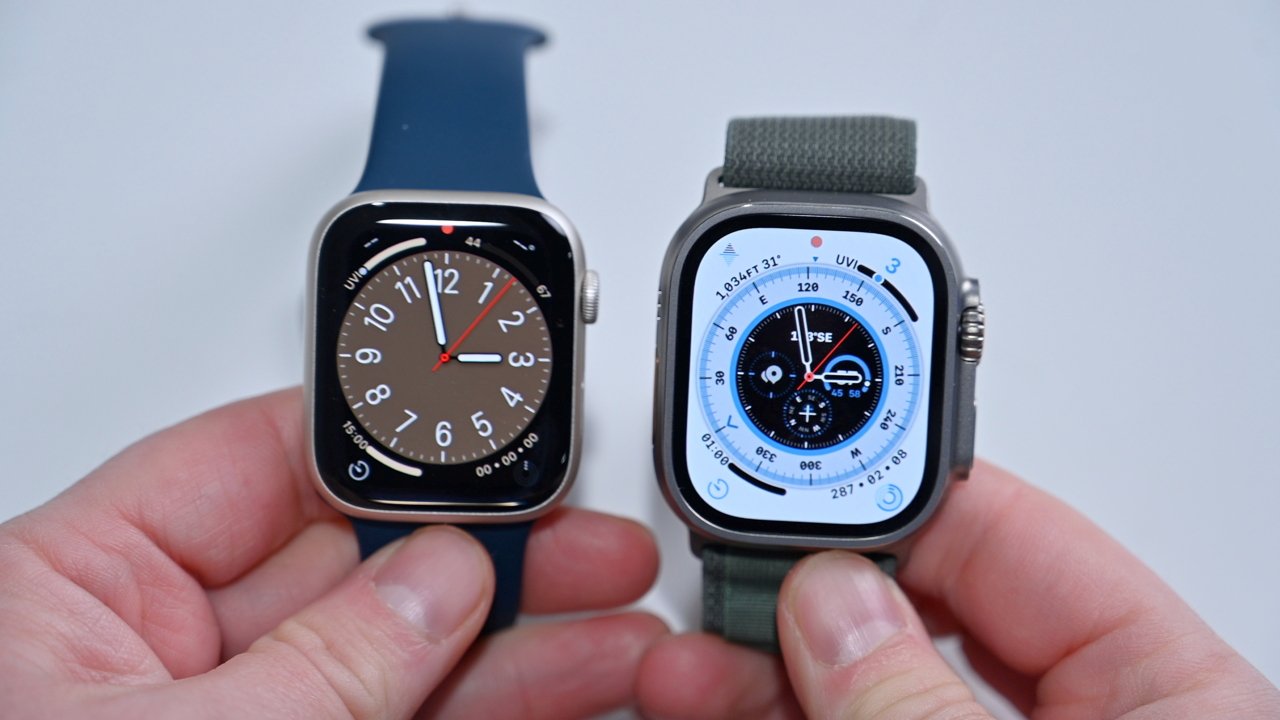 Last updated: 1 month ago
Apple Watch was originally announced in September 2014 with three key features: a precise, customizable timepiece, an intimate way to connect and communicate, a comprehensive health and fitness companion. This has since evolved into the Apple wearable of today centered around health and fitness.
● Swappable bands
● Premium materials
● Integrated heart monitor
● Activity tracking and alerts
● Apple Music and Podcasts
● Apple Pay built in
● Cellular models
● Siri integration
● Spring 2015 first release
---
The Apple Watch launched in the spring of 2015 with three distinct models, several bands, and software that emphasized communication. Only one of those remains a part of the lineup today— bands. Apple has since evolved the wearable into a device centered around movement, with communication playing a secondary role.
Apple Watch Features
The Apple Watch has seen a few design changes over the years, but have shared similar design characteristics. The Apple Watch runs watchOS, and the first-generation watch is the only model that no longer receives updates. The Digital Crown, changeable watch bands, and an OLED screen are present throughout each generation.
Watch Bands
The Apple Watch features a simple hook and sliding mechanism to secure watch bands in place. Apple offers a range of bands as a first-party retailer, but third-party manufacturers can make custom bands using Apple's template. Similar to the era of iPod cases, then iPhone cases, watch bands have exploded into its own micro-business.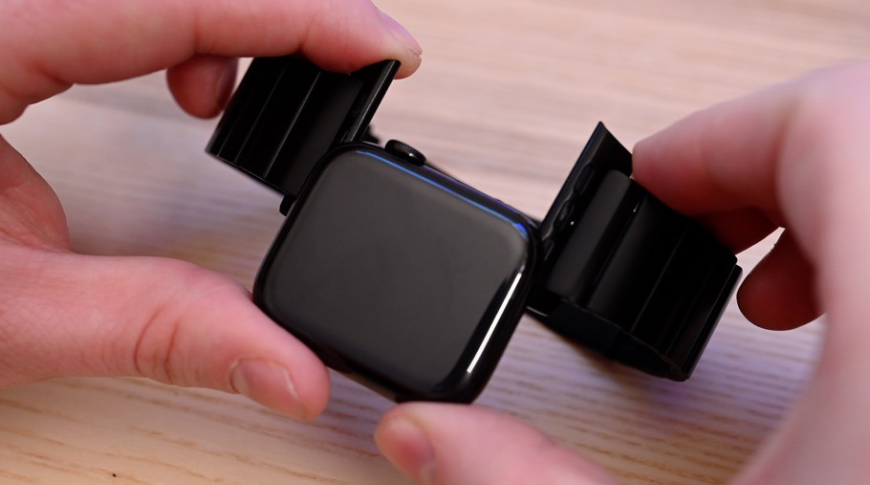 Every generation has used the same band latches and sizes since moving to a larger display in the fourth-generation, as it did not change the physical body size. A pair of small buttons on either side of the casing can be depressed to release a band and change it out with ease.
Apple often introduces new colors and designs for existing watch bands, but they rarely bring about new designs or materials. In 2020, Apple announced a line of "Solo" bands — bands that don't feature a fastener. These bands are designed to be stretched over the hand and must be ordered to size.
Digital Crown
The Digital Crown is based on a conventional crown a person uses to set the time on an analog watch. Apple set out to re-create this type of analog control for the digital era, and invented the Digital Crown. It is mounted on liquid metal that is conductive, which allows the crown to turn without the need for more complex wiring for signals.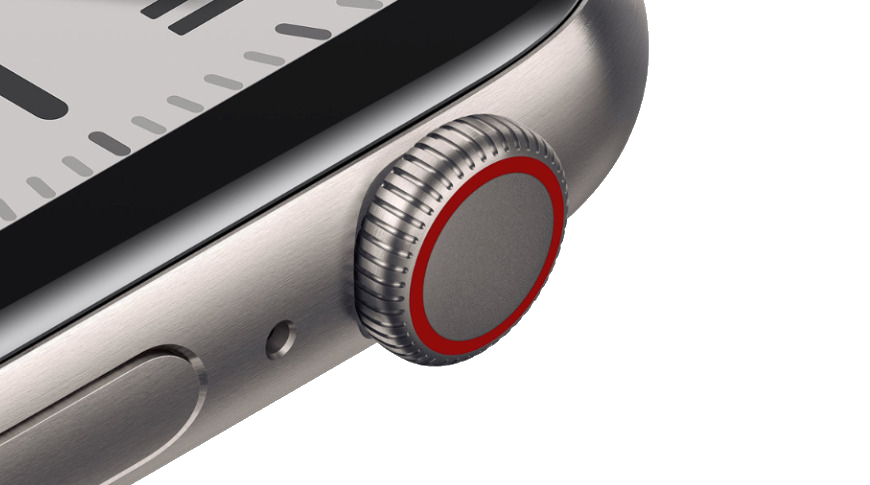 The Digital Crown acts as a home button. It also acts as a scroll-wheel for navigation. A long press will invoke Siri, and a double press will open the last app.
Embedded in the flat side of the crown is a conductive plate. This is used to complete the circuit from wrist to finger during an ECG.
Force Touch Display
Every generation of Apple Watch has featured a Force Touch Display. This display allows for a user to press "into" the content to open up contextual menus. If this sounds familiar, it's because it was the fore-bearer to the now deprecated 3D Touch. Because of its small screen and limited interactions, Force Touch stuck around for this device, but it seems that watchOS 7 is eliminating the need for this technology.
Just like with iPhone 11, the next generation will abandon Force Touch technology altogether. Apple may move away from this technology because of the complexity of implementing it and the lack of discoverability, especially on a device that fits on a user's wrist.
Activity Monitoring
Each generation of Apple Watch features various technologies, all targeted at one thing: activity monitoring. The heart rate sensor and accelerometer both track movement and activity throughout the day. Three rings track three goals: a user's target exercise goal, a user's target calories burned, and hours where a user has gotten up to move, rather than sitting stationary.
Apple Watch allows users to share their activity rings between themselves inside the Activity app. This app will award users medals based on continued habits and closing their rings, and can even let users challenge each other. One initiative called "Apple Watch Connected" will allow gyms to reward their users based on how well they perform in the Activity app.
Family Setup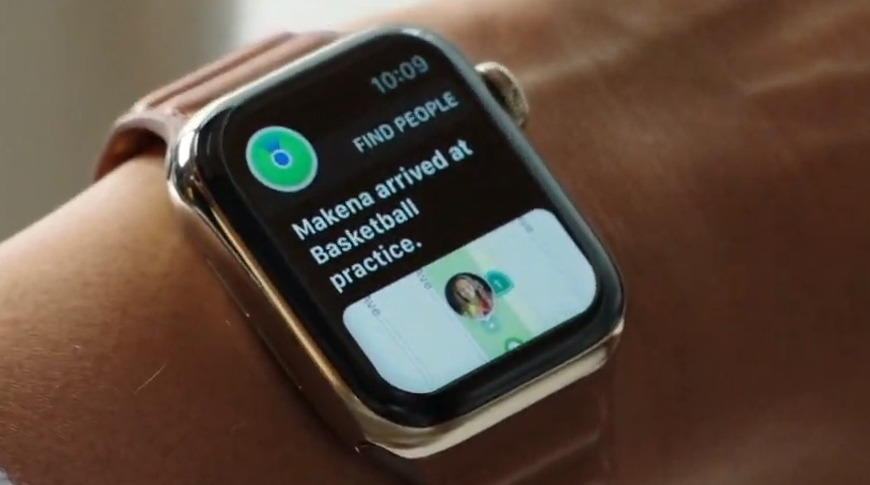 Family Setup lets a Family Group organizer up an Apple Watch for a family member who does not have a dedicated iPhone. Children in the household get their own phone number for each Watch, allowing them to keep in touch even if the kids don't have phones.
Family Setup lets parents specify with which contacts children can communicate. Parents can also get automatic location notifications, so they can keep tabs on where their family. Kids can use their Apple Watch to track activity.
Schooltime Mode is a feature that helps kids stay focused, limiting available features and activating Do Not Disturb during the school day, while giving them a unique watch face.
Family Setup requires a fourth-generation device with cellular capabilities.
Apple Watch History
The world held its breath for an Apple iWatch, and it never came. Instead, Apple introduced a new naming scheme and a new product: Apple Watch. Tim Cook announced the new product with a "one more thing" at the September 2014 iPhone keynote.
The operating system and health features have seen robust upgrades over the years. Even now, Apple can take the things it learned from producing the tiny wearables and pass it to cheaper models. The sixth-generation of Apple Watches was introduced at the "Time Flies" event in September 2020.
Apple Watch Series 6
The Apple Watch Series 6 comes with a brighter always-on display, a pulse oximeter, and new colors. The faster S6, Apple Silicon processor means everything is more efficient and faster.
The aluminum model has new blue and (PRODUCT)RED color options, and the stainless steel case has a new graphite color. Apple has retired ceramic from the sixth generation.
Apple included the U1 chip in the Watch though its function is not directly known. It may be used for CarKey in the future or in conjunction with AirTags or the HomePod mini.
Apple Watch SE
The Apple Watch SE has a modern design with the latest tech, minus a few key features to reduce the price. There is only an aluminum model available with space gray, silver, and gold color options.
It does not have ECG or blood oxygen detection and has the S5 series processor. These missing features and lesser components allow for a much more affordable entry price. Even the cellular options are cheaper by comparison to other models.
Apple Watch Series 5
The Apple Watch Series 5 changed the Apple wearables game again. This one came with a long-requested feature— an always-on display.
Until now, to see what was on the screen, a user would need to lift their wrist to activate the display or tap it awake. The new feature allows users to view the display without performing a gesture, similar to a traditional wristwatch.
To accomplish this without sacrificing battery life, Apple used an LTPO display, which uses variable frequencies to slow the screen to as little as 1Hz to prevent inadvertent battery drain. The display is unique to the Apple Watch, though some rumors suggest it could appear in a future iPhone.
Other new features include ambient noise level monitoring and a built-in compass. The microphone will listen to the environment, and it passes a certain noise threshold, encourages a user to move away from the noise. The compass allows a user to know which direction they are facing at a glance.
The fifth-generation Apple Watch also marks the return of ceramic to the lineup and the addition of Titanium.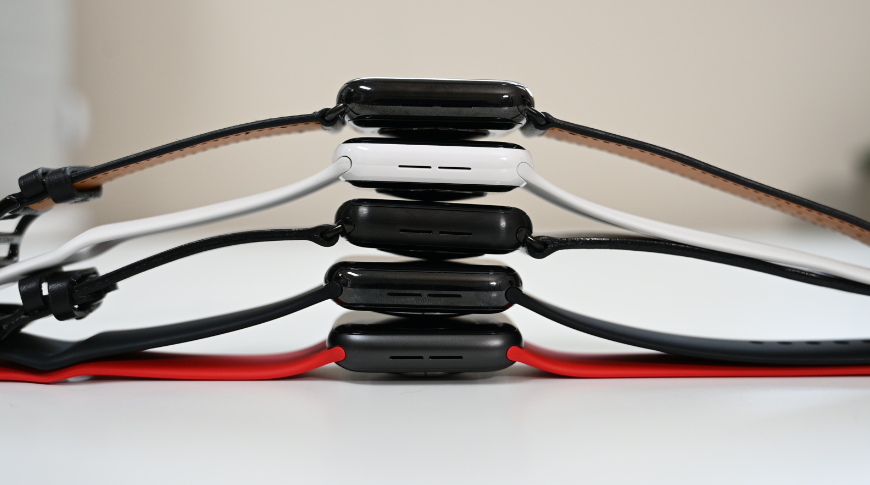 Apple Watch Series 4
The introduction of the Apple Watch Series 4 went without the usual bells and whistles. The fourth-generation model can be considered the equivalent to the iPhone 4S— a device released a few years in, feature-rich, in its stride, and it sees an iterative, if not important update.
The larger screen is immediately apparent. Apple also altered and improved the heart rate sensor on the bottom. This allowed for an important new health feature: ECG.
The fourth-generation Watch with built-in fall detection and ECG became the must-buy for elderly parents or those relatives with mobility issues. This was a big step forward in getting the Watch on more peoples' wrists, as the fitness approach had been well-tread.
Apple updated the software and watch faces to handle the bigger screens, allowing for more data than ever to be displayed.
Apple Watch Series 3
Apple finally found its stride with the third-generation Appleb Watch. The new model featured vastly improved battery life, cellular models, and much faster wireless transfer speeds. The Apple Watch Series 3 launched in fall 2017 and served as a complete replacement for the previous generation. The Apple Watch Edition gained a new material color as well: gray ceramic.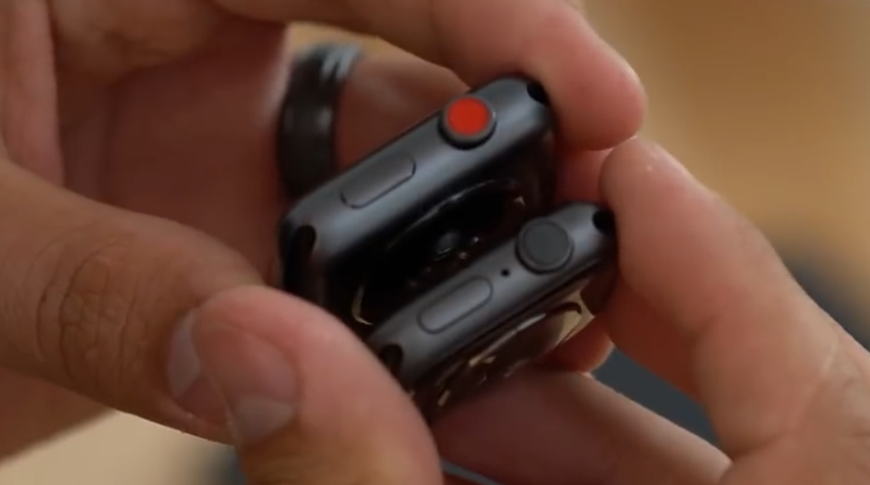 Apple did make an odd design choice with this generation, specifically the cellular models. Apple chose to differentiate cellular versus GPS models by having the Digital Crown colored red on cellular models.
Apple Watch Series 2
Apple learned a lot from its first year in wearables. The company toned down the high fashion approach and peeled back the curtain on a new generation of Apple Watch: a new health and fitness companion. The refreshed device came in two variants with a new naming scheme. Apple dubbed them the "Series 1 and Series 2" and were announced by COO Jeff Williams at the September 2016 iPhone event.
Apple started by showing us the Apple Watch Series 2, to everyone's confusion, because this was a massive departure from the previous naming scheme and skipped a number entirely. The second-generation Watch was Apple's course correction for the wearable and was presenting the device primarily for health and fitness.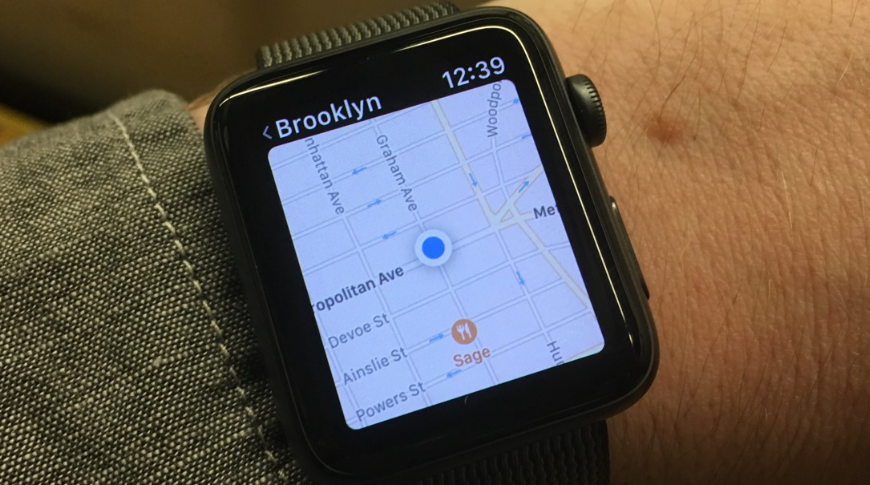 The updated device could be purchased in aluminum, stainless steel, or ceramic as gold was quietly discontinued. The Apple Watch Edition naming did stick around for the ceramic watch, however.
The Apple Watch had new features including "swimproofing," which Apple declared was safe up to 50 meters submerged. The speaker acts as a water ejection tool when exiting swim mode.
It also included GPS and a brighter screen.
Apple also released a modified version of the original Sport model with an improved processor and called it the "Series 1." This model acted as a cheaper entry-level model for those who did not want GPS.
Apple Watch "Series 0"
The first-generation Apple Watch went on sale 6 months after its introduction. Apple did not start calling its Watch models "series" until the second generation. Initially released in a three-model tier set, since it was supposed to be a fashion object, it went: Sport, Watch, and Edition. Each model housed identical internals with only the case material making a difference to the user. The "Series 0" name came about after Apple called its successor the "Series 1."
Apple Watch Sport was meant to be the entry-level watch, purchased by athletes and those with an active lifestyle. Made from aluminum, it was available in space gray, silver, and rose gold; mimicking the iPhone colors of the time.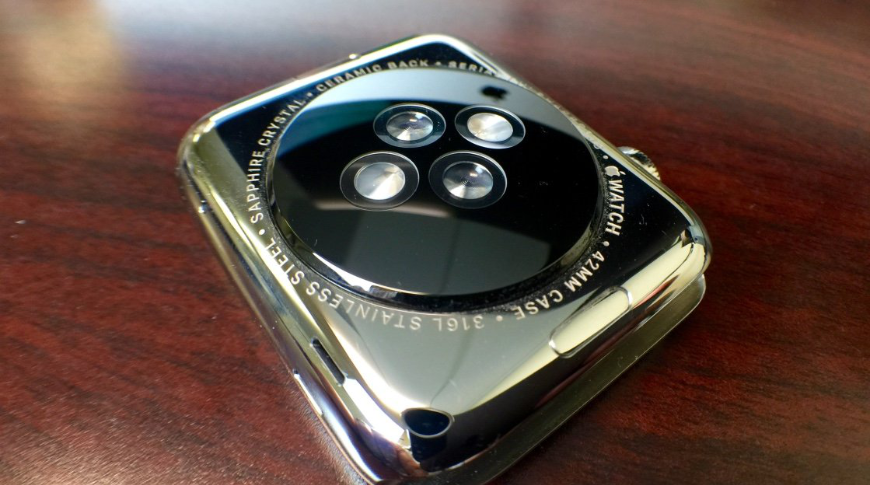 The entry-level model was crafted from stainless steel and available in space gray and silver; this was priced as high as a mid-tier iPhone, yet expected to be the primary choice for consumers. However, the Sport model proved more popular over time.
The Apple Watch Edition was Apple's, and more likely Jony Ive's, foray into luxury timepieces. Coming in with 18 karat gold or rose gold, this ultra-luxury device sold for $10,000 or more.
Common Apple Watch questions
How do you pair Apple Watch with your iPhone?
Start up the Apple Watch for the first time.
A pairing screen is displayed with a pattern.
Your iPhone will show a pop-up asking to pair the Watch.
Scan the pairing pattern with the iPhone and follow the on-screen instructions.
How do you factory reset the Apple Watch?
Open the Settings app on the Apple Watch.
Select General and scroll to the bottom.
Select reset, then select "erase all content and settings,"
Enter your passcode and the Watch will reset.
How much does an Apple Watch cost?
You can purchase the Apple Watch SE for $279 with an S5 processor and modern design or an Apple Watch Series 6 with the latest technology and health features for $399 and up. Better materials like stainless steel or titanium add to the price, as well as custom bands from Apple.
Blood oxygen detection is available on the Apple Watch Series 6 only.
Open the Apple Watch app on iPhone
Select "Blood Oxygen"
Enable Blood Oxygen measurements using the toggle
Open the Blood Oxygen app on the Apple Watch
Take a manual reading which takes 15 seconds