Redacted version of Apple-HTC settlement reveals licensed patents, little else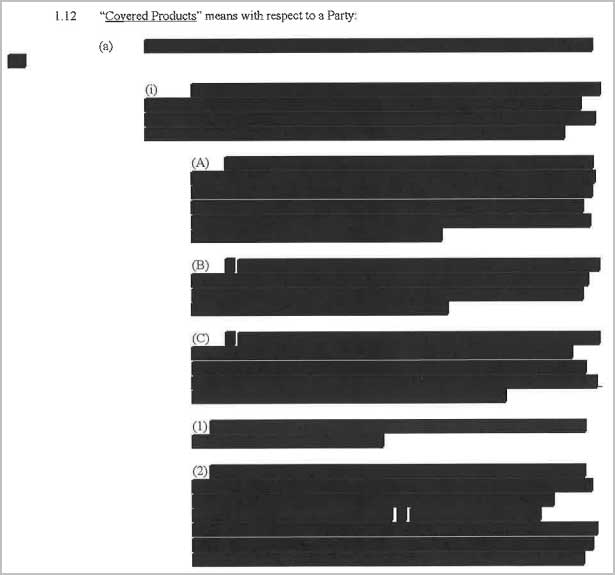 A heavily redacted version of Apple's patent licensing agreement with HTC, made public on Wednesday as part of the Apple v. Samsung jury trial, reveals a bit more information about the properties covered as part of the ten-year deal.
Submitted to public record on Wednesday by Samsung, the 143-page document outlines the specifics of the Apple and HTC licensing agreement reached in November, which put a stop to all current and pending litigation. The filing comes as part of the Apple v. Samsung post-trial proceedings, with Samsung ikely using the deal to undermine Apple's bid for a number of product injunctions.
The portions of the document left unredacted show that both Apple and HTC are getting nonexclusive rights to certain number of the other's patents, with Apple stating it will not sue over a number of HTC products. Those products remain secret, however, as all associated references to the devices were redacted.
Exclusions to the deal include "rights to any Design Patents of APPLE" as well as so-called "cloned" products made by HTC, which leaves a back door out of the agreement should the Taiwanese firm make a handset that too closely resembles an Apple device. Also not part of the settlement are nine patents HTC asserted against Apple in previous litigation. As noted by AllThingsD's Ina Fried, the patents specifically excluded from the deal are those on loan from Google.
Earlier in the week, Apple v. Samsung Judge Lucy Koh ruled against an Apple motion to keep the patents involved in its HTC settlement out of public view, but agreed that the financial particulars of the agreement should stay sealed as disclosing such information could cause harm to both parties.
Samsung and Apple are both scheduled to meet at a post-trial hearing on Thursday, at which both parties will argue their respective motions including Apple's bid for a sales ban against eight Samsung devices and the Korean company's push to have the entire case thrown out over jury misconduct.