AppleInsider's free iPhone app now available for download from the App Store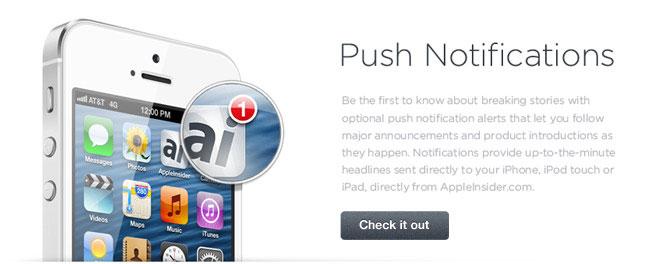 AppleInsider today is pleased to announce its first mobile application for Apple's iOS platform: the AppleInsider app for iPhone and iPod touch, available as a free download exclusively from the App Store.
The official AppleInsider iPhone app is a culmination of efforts between the AppleInsider editorial staff and the award-winning designers and developers over at New York-based Crafted Creative Inc. We're extremely proud of this first-release effort on the App Store and will be working closely with Crafted in the coming months to help drive the future of our mobile initiative.
Among the key features baked into this first release are a full multi-touch interface with quick article swiping; easy one-touch sharing of AppleInsider content via email, text message, and social networks such as Facebook and Twitter; full-screen imagery; custom text sizing; and most importantly: Push Notification functionality to give readers instant updates on the most critical breaking Apple news.
And don't worry, we're not looking to constantly bug you. Push notifications from the app will be sent out sparingly and will be limited only to stories that matter the most to our readers. Examples include:
Official Apple announcements, including the latest press releases or public comments by the company.
iOS and OS X software updates, so you know when to start downloading and updating.
Major scoops and rumors, both from AppleInsider and from reliable media outlets we curate news from, such as The Wall Street Journal and The New York Times.
Noteworthy hires or departures, such as changes to Apple's executive lineup or high-profile personnel that may come to the company.
Major lawsuit updates, including significant developments in Apple's ongoing litigation with rivals like Samsung and Motorola.