Apple Watch Series 3 with cellular and watchOS 4 have changed how I use my watch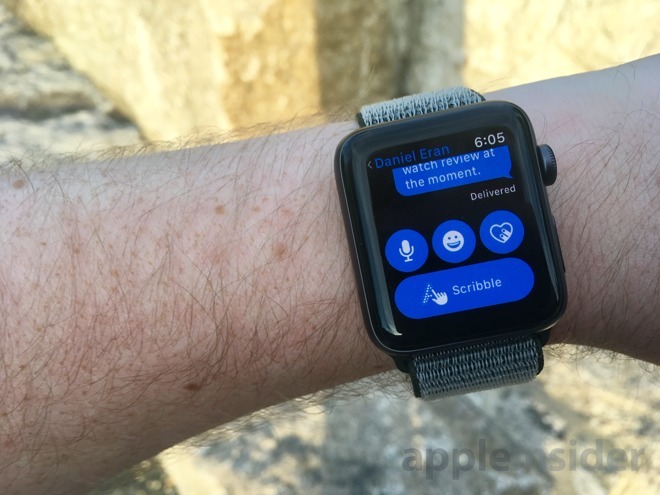 AppleInsider is supported by its audience and may earn commission as an Amazon Associate and affiliate partner on qualifying purchases. These affiliate partnerships do not influence our editorial content.
A few weeks with Apple Watch Series 3 and watchOS 4 have prompted me to rethink and adjust how I use my Apple Watch on a daily basis. These small but noteworthy changes offer a glimpse at how Apple's wrist-worn platform is maturing nicely into its third year.
Rethinking the dock
With watchOS 4, Apple redesigned how the app dock (accessed by pressing the side button) looks and operates. It's largely an aesthetic change that has no real bearing on how I use the Apple Watch.
And yet, with the introduction of LTE connectivity with the Apple Watch Series 3, I found myself revisiting the dock and rethinking how I use it.
Rather than the software changes, however, my adjustment was prompted by the iPhone-free use that a cellular radio offers, as well as faster speeds with the Series 3 processor. As a result, I'm now using apps on my watch that I rarely touched before.
With Apple Watch Series 2 and watchOS 3, my app dock mostly reflected the same apps set as complications on my watch faces. That is to say, it was mostly focused on fitness tracking and music controls.
After a few weeks of using Apple Watch Series 3 with cellular, however, I felt compelled to reorganize my app dock. Previously, music controls took the top slot. Now, my top app is one that wasn't even in the dock before: Messages.
Messages matures with LTE
With Apple Watch Series 2 and prior, the Messages app was something I interacted with passively, simply seeing notifications and either dismissing them, or pulling out my iPhone to type a response. When your iPhone is always on you, writing on a tiny wrist display is a chore.
Leaving the iPhone at home, however, makes the Messages app more crucial.
As detailed in our Apple Watch Series 3 review, this is not to say that Messages on watchOS is (or will ever be) superior to how it operates on an iPhone, iPad or Mac. But with cellular connectivity and a "good enough" approach, it's perfectly fine for sending quick messages, either via handwriting or dictation.
I thought of this as I listened to Apple Chief Design Officer Jony Ive at The New Yorker TechFest last Friday, when he said he wastes less time staring at his phone because of the new Apple Watch Series 3. While Messages on an Apple Watch will never be as easy to use with a tiny display, the convenience and lack of distractions associated with a wrist-borne communicator address a very different set of needs and problems.
With Apple Watch Series 2, the Messages app was hidden in a honeycomb sea of icons. With Series 3, it's now front and center in my app dock.
Wallet no longer worthless
Beyond Messages, another new app found its way into my dock in the last few weeks: Apple Wallet.
In a desire to leave my phone at home, I looked for a way to load my gym card onto my watch. As it turns out, my local YMCA has an app with Apple Wallet integration. The answer was always in front of me — but with my phone and keys always on me, I never felt compelled to seek it out.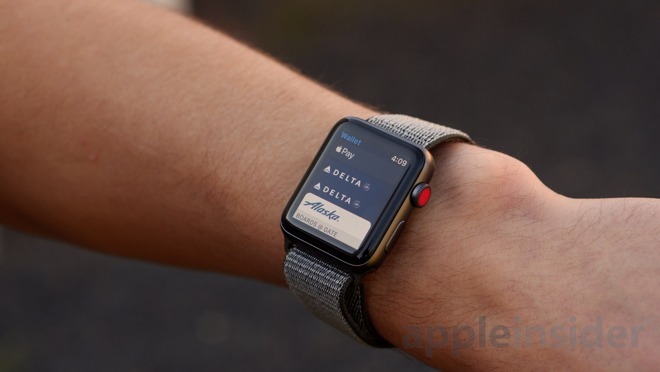 With Apple Watch Series 3, however, I've been looking for ways to reduce clutter and cut down on things I don't need. At the gym, I don't really need my phone, and Apple Watch Series 3 makes it easier than ever to leave it at home.
It's worth noting that double-pressing the side button pulls up Apple Pay cards, but not everything found in the Apple Wallet. Hence the need to put Apple Wallet in the dock: It's the quickest way to access the app at the moment.
Perhaps, in the future, Apple could expand the double-press functionality of the side button to include store cards and memberships stored in Apple Wallet.
Automatic iPhone media controls are very convenient
One of the reasons I was able to rearrange my dock and de-prioritize music and fitness apps is because watchOS 4 also includes a new feature dubbed "Auto-launch Audio Apps."
In short, if you start the playback of media on your iPhone, including content via the Music app, the Apple Watch automatically displays media playback controls when you raise your wrist. That means the user no longer needs to press anything or open an app — controls are instantly available.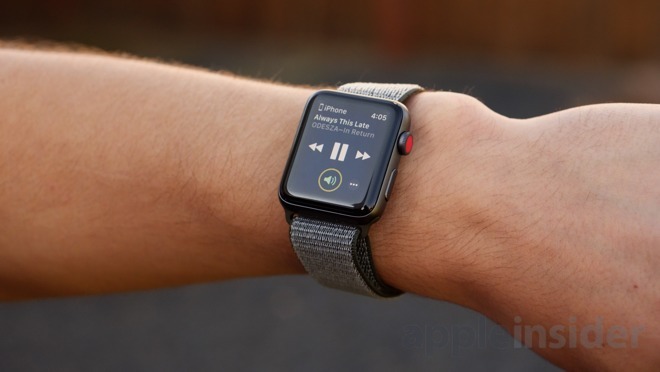 This is especially convenient for adjusting volume. Simply raise your wrist and rotate the Digital Crown, and that's it.
Not everyone is a fan — I've heard from some people who find this new watchOS 4 feature to be an annoyance. The good news is it's optional and easy to disable.
If you find yourself bothered by this change, open the Watch app on your iPhone, choose General then Wake Screen. There, you can turn off the Auto-launch Audio Apps feature, and you won't see it again. If you do that, you might want to ensure the "Now Playing" app is saved in your app dock, however, because for some reason it's not accessible from the app home screen.
Siri everywhere
Over the last few years, I have become accustomed to interacting with Siri on my wrist. But there have always been two glaring problems.
Number one, the voice-driven personal assistant has always been too slow. The Series 2 hardware made a giant leap forward over the first-generation device, with a faster processor, but the experience was always slower than I'd like.
In addition, Siri requires a data connection, meaning if I went for a run and didn't have my iPhone on me, it simply would not work.
Series 3 brings the one-two punch of always-on connectivity and a faster dual-core processor. As a result, Siri is not only more responsive, but more readily available.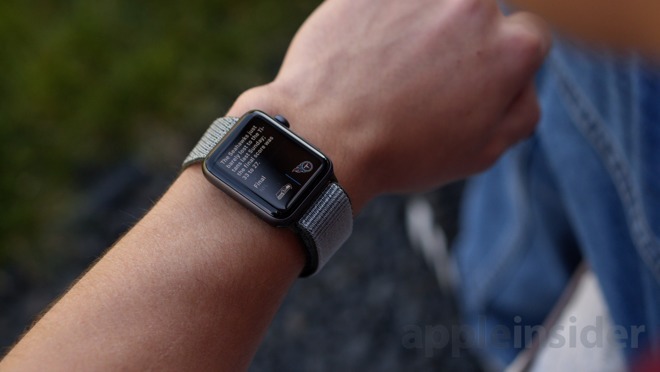 Now I can not only receive a text while I'm out and about, but I can also reply to it with voice.
In addition, because Siri talks back, I don't need to stare at my wrist to make sure the prompt was received, or transcribed correctly. On the go, I get a response via my AirPods. And at home, the Apple Watch speaker is loud enough to assure me everything worked as I intended.
Whether it's voice dictation, creating a reminder, HomeKit smart home controls, setting a timer, or searching for basic information, Siri on your wrist has always been convenient. Now it's just more useful.
A flashlight on your wrist
This is a small change but one that I have found myself utilizing on a number of occasions: The watchOS 4 Control Center now features a flashlight. And it works great.
Simply swipe up from the bottom of the watch face to bring up Control Center, and tap the flashlight button. The display will turn a bright white, and the brightness increases when you rotate your wrist away from you, illuminating the world around you.
It's pretty clever and it works perfectly. It's also very convenient, since it's always on your wrist.
By swiping left, users can also access optional flashing and red flashlights. I haven't found these to be useful, but it's nice that they're there.
As watchOS continues to mature, it would be nice to se the Control Center gain more functionality and customization as in iOS.
Try at your own risk: watchOS 4.1
Expected to arrive later this month, watchOS 4.1 will be a game changer for athletes who want to leave their iPhone at home while still accessing their entire music library.
The upcoming software update gives users the ability to stream tracks over LTE from Apple Music, iCloud Music Library and iTunes Match. It will also include a new Radio app with Beats 1, letting users stream stations without their iPhone nearby.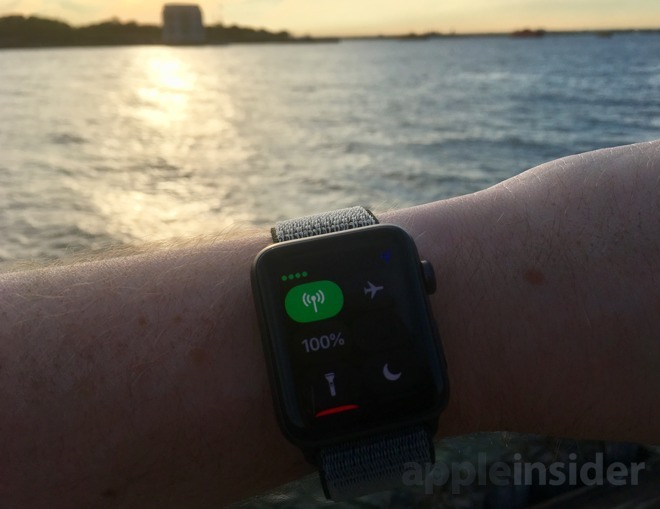 As an outdoor runner, I was eager to try watchOS 4.1 and installed the first beta on my Apple Watch when it arrived. For me, the feature has worked perfectly.
However, Apple Watch betas are particularly dicey, because there is no way to reset the hardware if the install fails. If your Apple Watch is "bricked" in the process of installing a beta, you must physically mail the hardware to Apple to have it reset.
It is for this reason that Apple does not offer public betas of watchOS. And as such, we cannot recommend most users try it for daily use.
For us, it has worked well, and it has further changed the daily use case for my Apple Watch. For Series 3 with cellular owners, its launch later this month could represent a seismic shift in how they use their watch, too.