iOS 15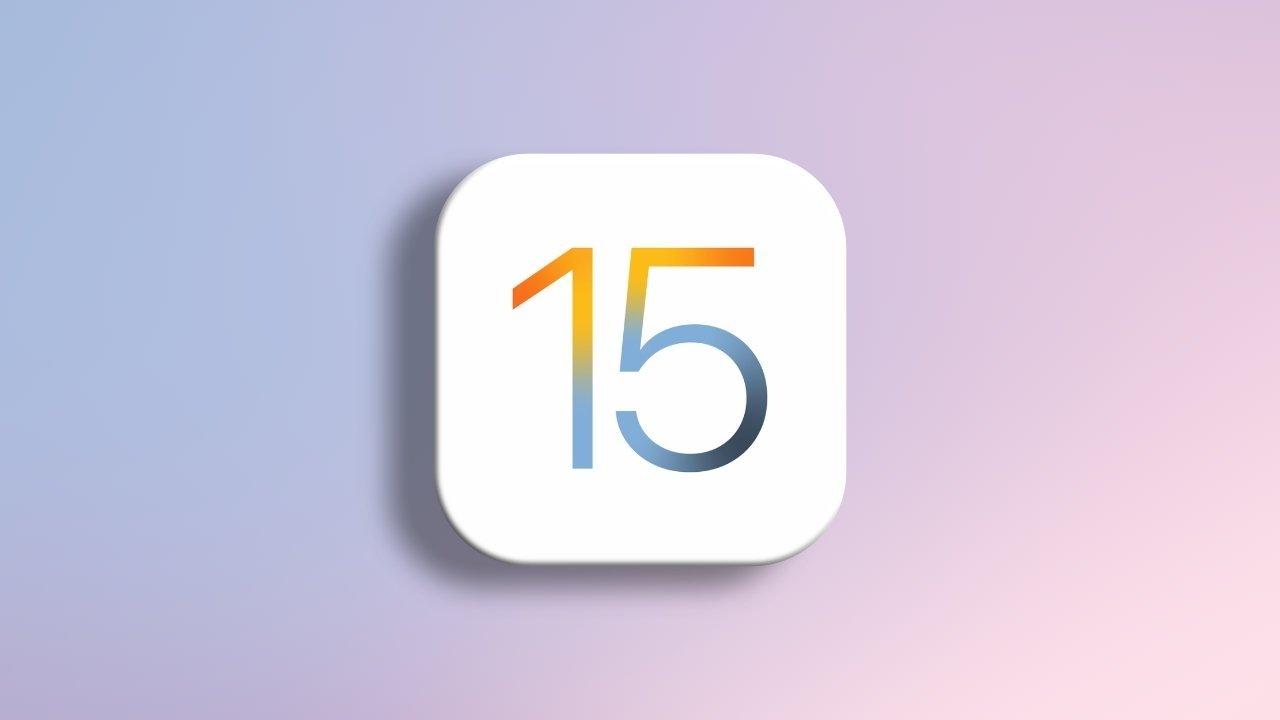 Social features and day-to-day tasks are the focus of iOS 15 and beta testing has begun. Apple's updates to FaceTime, iMessage, and a new version of do not disturb called Focus show a commitment to getting users more interactive within these apps. There are also a multitude of changes across the OS in how information is presented or discovered.
● FaceTime updated with new sharing features
● iMessage photo sharing improved
● Focus controls notifications
● Maps, Safari, Wallet changes
● Live Photo text lookup
● Improved Spotlight search
● iCloud+
---
Apple held its annual WWDC conference in June 2021 and announced the usual operating system updates. Among those updates was iOS 15, with a big focus on social and productivity.
It seems many of the updates were a direct result of a year in lockdown. Sharing music, movies, and photos among friends and family are much easier, and now FaceTime feels a little more like a productivity and social tool than a standard videophone.
Apple introduced compatibility with the MagSafe Battery Pack and walked back some Safari changes in the latest beta.
iOS 15 Features
Apple didn't introduce many new features but rather took existing features and gave them a fresh coat of paint. By taking existing systems and improving their awareness and connectivity, iOS 15 seeks to make every interaction feel more fluid.
Social updates
Apple took a note from popular social apps and improved upon FaceTime, iMessage, and system-wide sharing intelligence. Not only is it easier than ever to watch a movie with friends, but you'll also be able to keep track of what your friends share with the new "shared with you" feature.
FaceTime
Video calling became more popular than ever during the pandemic, and Apple was left out of the conversation thanks to the aging FaceTime platform. Now the company hopes to capture some of the hype with some modern features.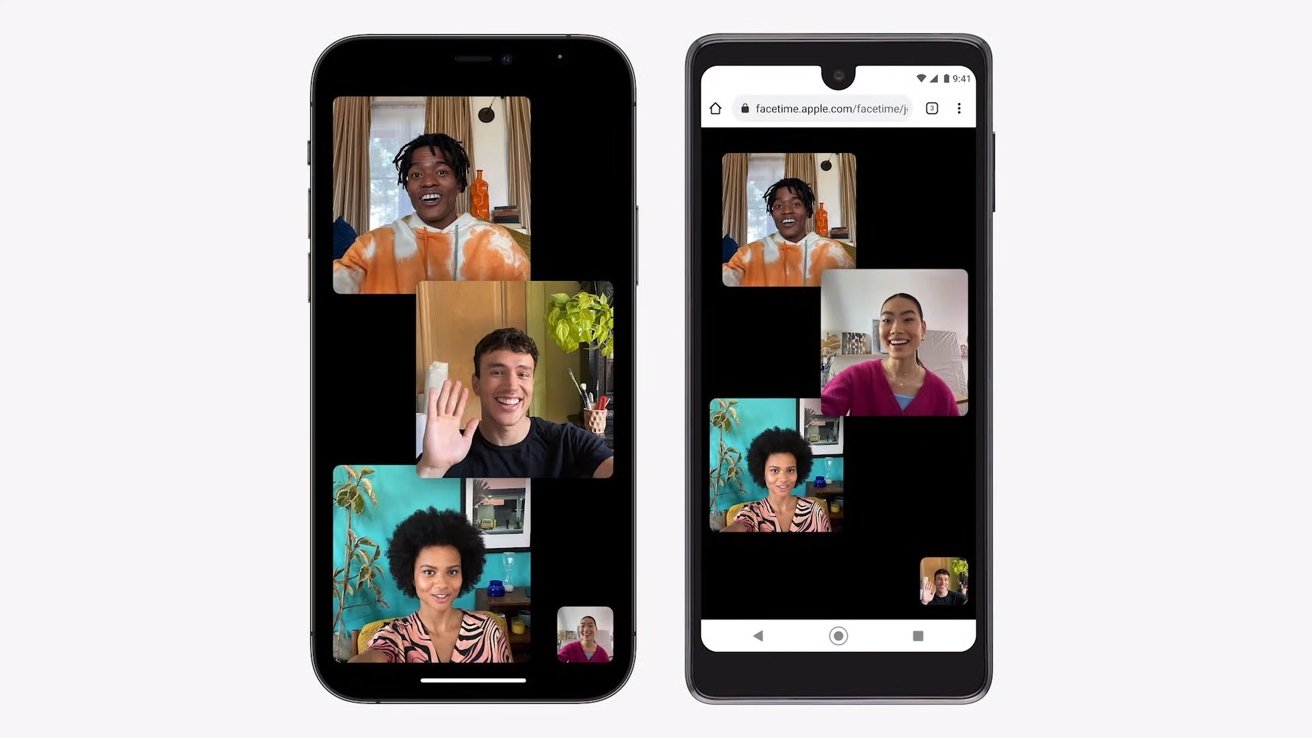 Users can share their iPhone screen on a call for the first time. This will enable users to show off an app or feature or even help someone troubleshoot an issue.
There is a new grid view within FaceTime, mimicking the look of popular apps like Zoom, but Apple has added a twist by adding Spatial Audio to the call. Now, sound will emanate from the direction of the speaker on screen.
Augmented reality filters bring some control and privacy to a call. Portrait mode brings the speaker into focus and makes the background disappear in a bokeh-like blur. Mic modes enable algorithms to pick up speaking audios and focus on that rather than the dishwasher running in the background.
One of the most important features to come to FaceTime is links. For the first time, Android and Windows users will be able to participate in FaceTime calls via the web. Generate a link, share it, and schedule a call.
SharePlay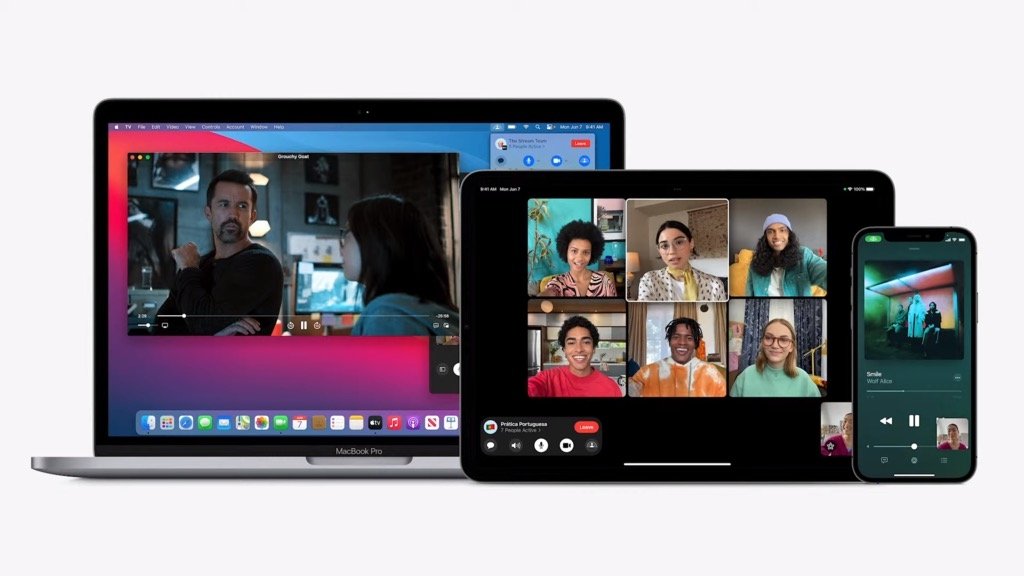 Alongside FaceTime updates came SharePlay — a new take on AirPlay that brings media into calls. SharePlay lets users watch a movie together, listen to music, or later view third-party apps like TikTok.
While in a SharePlay call, you'll be able to AirPlay video to your Apple TV. That means you can watch time-synced video with your friends on a call seamlessly across your devices.
iMessage
Sharing photos in iMessage is now a much better experience. If you share several photos at once, it will be presented as a stack that recipients can select to view and Tapback each image.
When users share Apple News articles, Apple Music songs, orApple TV+ shows, they will populate a new area in each respective app. This "Shared With You" feature collects everything recently shared within the app in question, so you don't have to hunt it down in iMessage.
In case you do want to find media or photos later in iMessage, users can now pin objects in a conversation for easy discovery. Also, Apple has added a new save image button next to shared images in a conversation.
Focus and Notifications
Apple has made it easier than ever to control your device and the information it gives you in a given moment. The new feature is called "Focus," and it expands Do Not Disturb into a scheduled system-wide control for getting things done.
Rather than have a single toggle that shuts down notifications for a set time period, Focus lets users create new definitions of how their iPhone, iPad, or Mac shows them information. Focus can be set for scenarios like work, personal, driving, or more.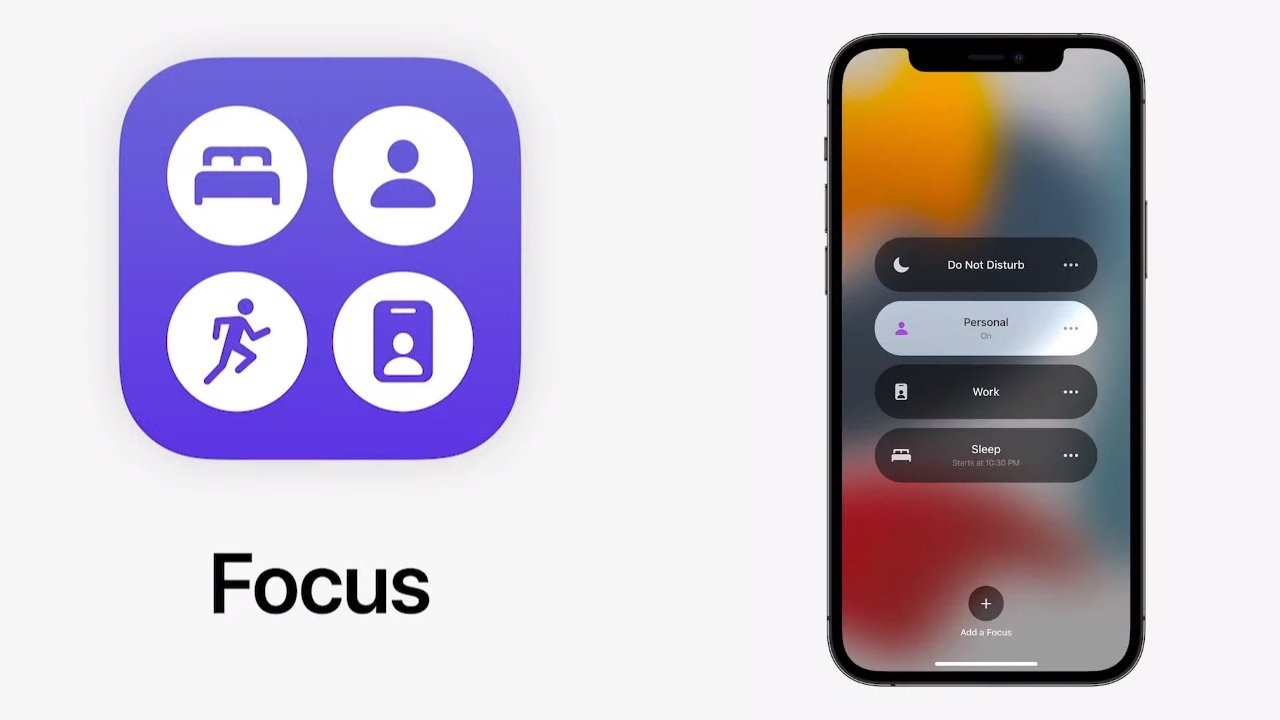 Users can customize each Focus by designating apps and people that can break through the notification block. While working, you might allow coworkers to give you iMessage notifications or let family message you during personal time.
Customization goes even further with App Library and Home Screen selection. Now that users can remove all apps from the Home Screen and design it using widgets and custom Shortcuts, each Home Screen can be tailored for a focus. This means you can have a Home Screen that only shows up during work hours or a Home Screen with minimal apps for bedtime.
Focus also acts as a status for iMessage. When a focus is set that may block someone's notification, they will be alerted of your status and have the chance to break through the block in an emergency.
Focus can be triggered manually or via a schedule. It has replaced the Do Not Disturb menu in the Control Center.
Apple App Updates
Apple's operating system updates also include changes to how its pre-installed apps work. These apps gain functionality thanks to changes in APIs or new technologies but sometimes get redesigns that change how users interact with them.
Safari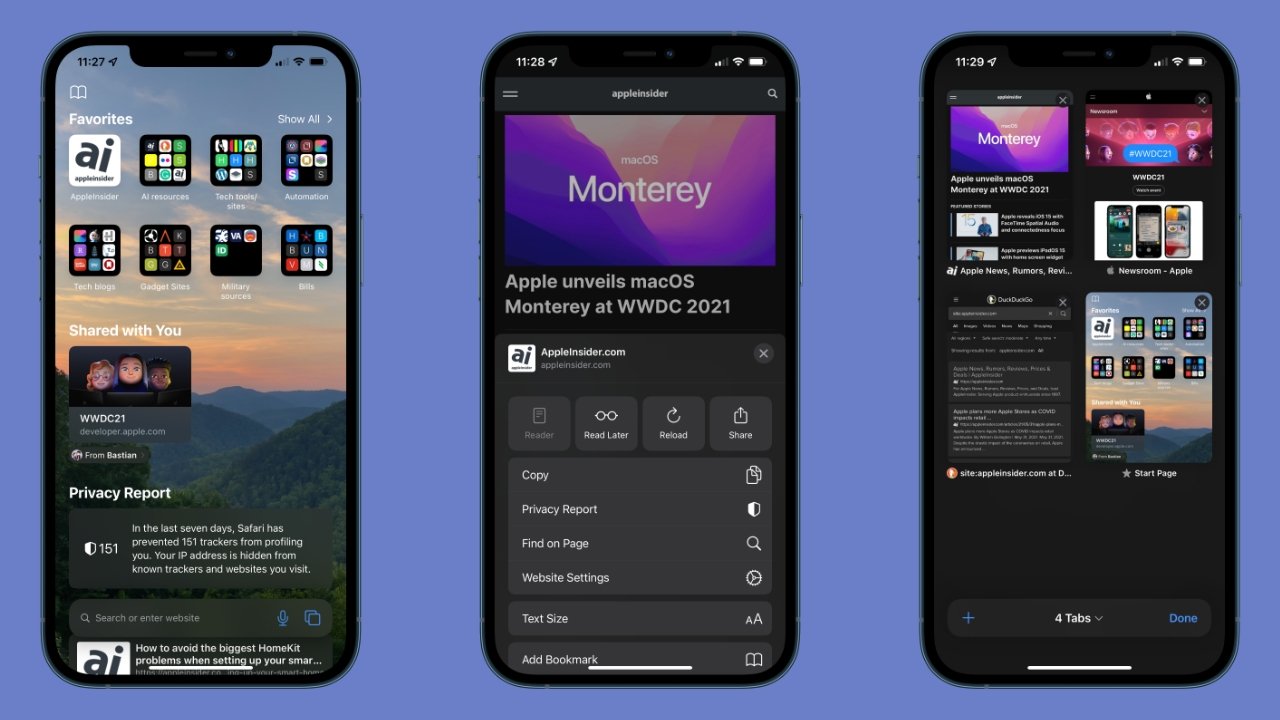 The default web browser on iOS has received an overhaul for modern design. Safari on iPhone is now better suited for single-handed navigation with the navbar at the bottom of the screen.
The Start Screen can now be customized like its macOS equivalent. Users can designate what information is shown here and add a wallpaper from the Photos app.
Custom extensions are coming to iOS, where previously Apple only had content blocking. This means apps like 1Password and Grammarly will have more integration and control within the browser like on desktop.
Maps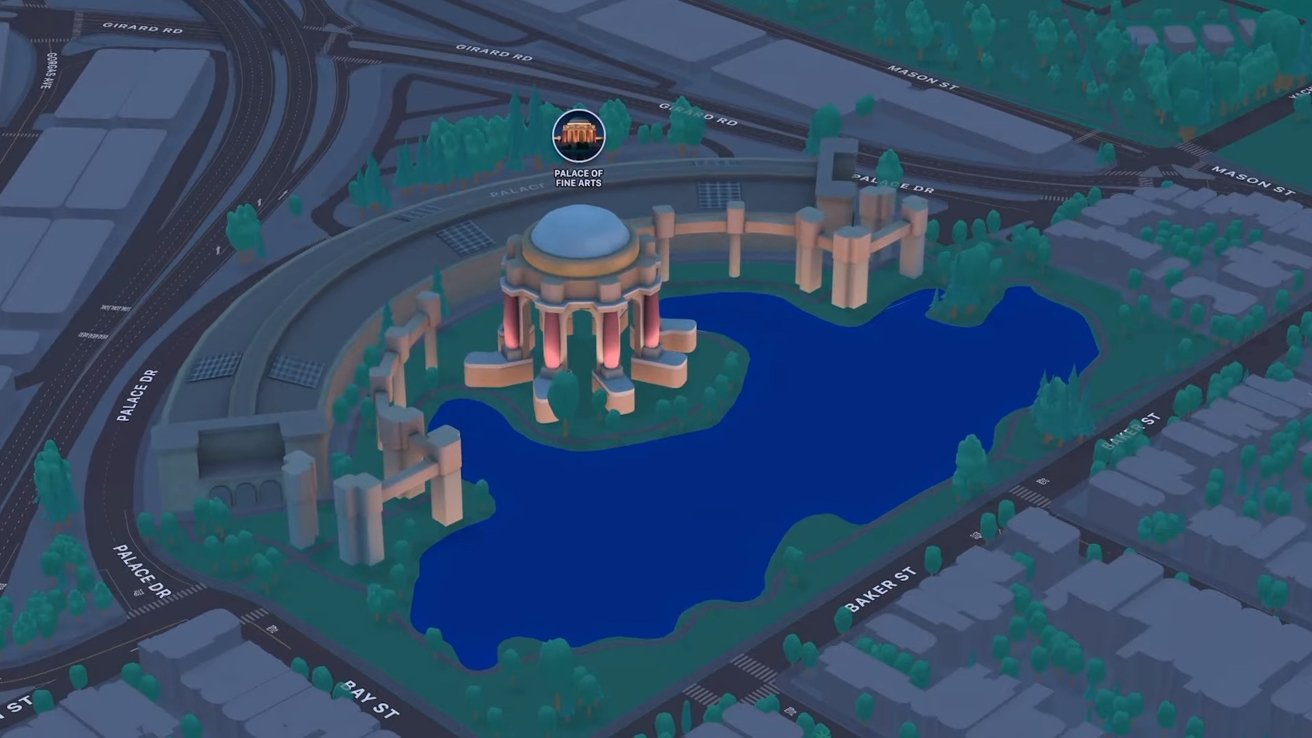 Some famous locations in Apple Maps will be rendered with special 3D art that interacts with day and night mode. Locations with more detailed landscapes will become available in some cities like New York and San Fransisco.
Detailed imagery with elevation, trees, and lanes are included in some cities. These design changes create an almost video game-like view of the map as you navigate an area. Apple has taken the time to animate specific complex intersections with overlapping highways in the artwork.
Apple has also included an augmented reality feature that shows arrows for where users should go in a three-dimensional space. A combination of LiDar scanning, geolocation, and the camera will get a precise location for the feature to work.
Wallet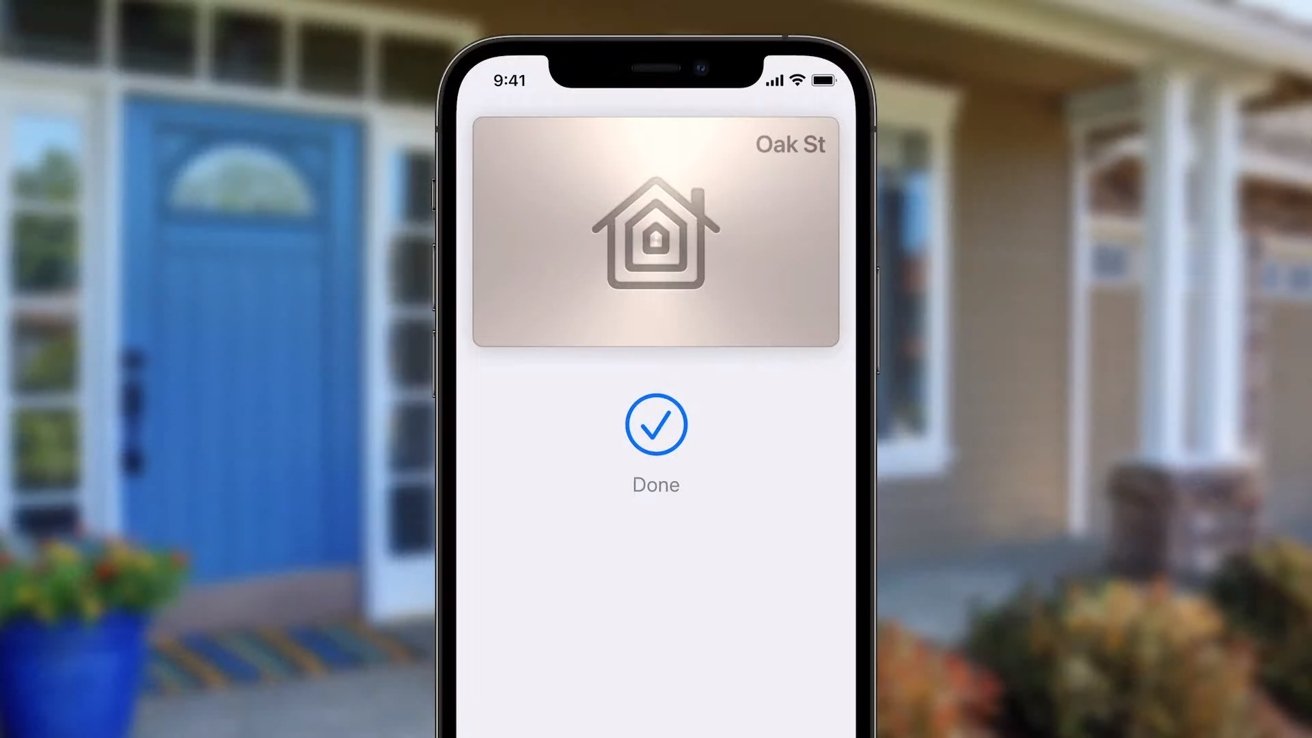 Apple has added a few items that can be included in Apple Wallet. States in the US that adopt the feature can allow users to scan their driver's license into their iPhone. The only feature Apple shared for digital ID is scanning it at an airport terminal.
Users will be able to add their HomeKit keys to the Wallet as well. This will simplify accessing a home with biometric authentication and a tap rather than fumbling with an app or HomeKit.
Car Key is being improved with Ultra Wideband support coming to the feature for select vehicles. Soon users will be able to unlock their car and start it using proximity authentication alone.
Live Text in Photos
On-device intelligence will be able to grab text from the camera viewfinder or from saved photos. Users will then be able to select text to translate or copy out of a photo for use elsewhere. Formatting in an image is preserved when it is detected, like bullets in a list.
Phone numbers and name data are also exposed by the algorithm. This means users can scan a business card or sign to expose a phone number or contact information that can be saved to the Contacts app.
The improved intelligence extends outside of text too. The photos app and camera will be able to detect objects in the image, such as animals or plants, and link users to more information on the web.
Spotlight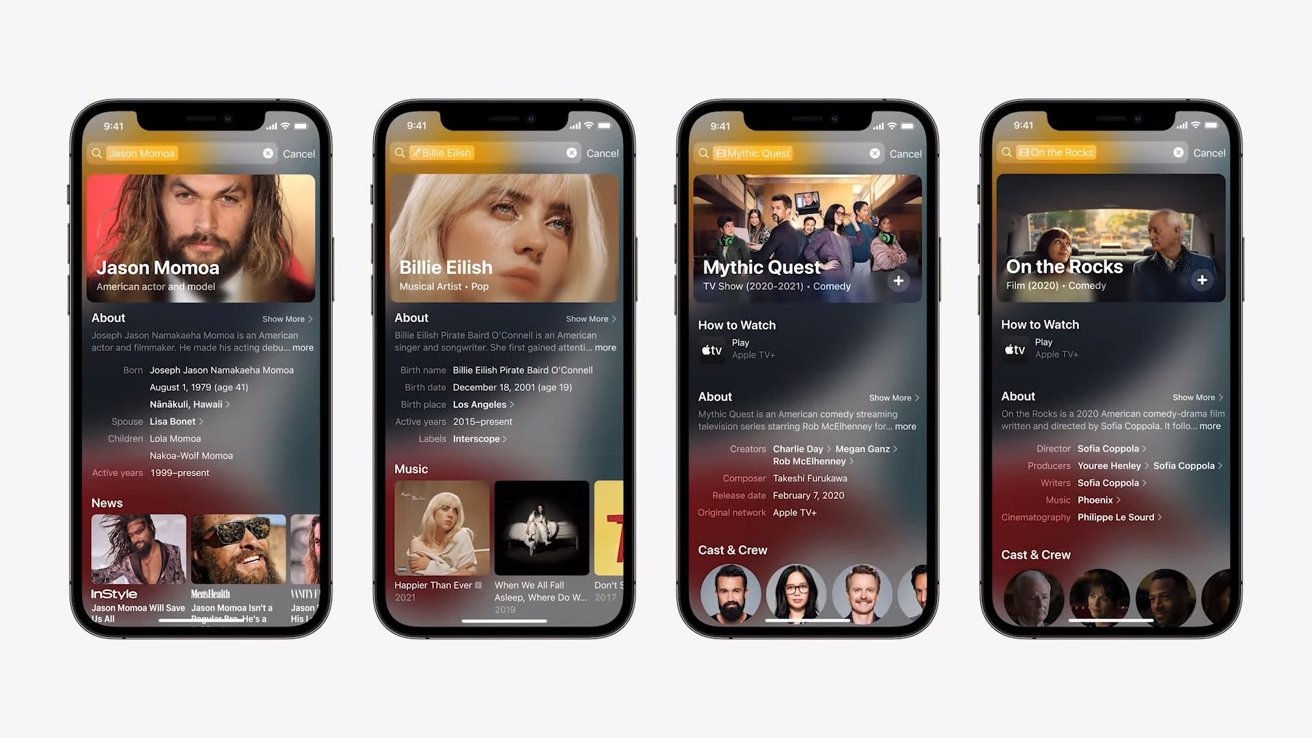 Spotlight has more rich results for people, media, and apps. Users can access Spotlight from the lock screen as well.
Rather than see a link to Wikipedia, users will be shown detailed information about famous people when it is available. The data is surfaced from popular websites and links users to those places for more information.
Users will also be able to search for live text found in photos or a specific location in a photo.
iOS 15 Compatibility
iOS 15 can be downloaded on the following devices:
iPhone 8 Plus
iPhone 6s
iPhone 6s Plus
iPhone SE (First Generation)