Amazon readying Kindle Fire update to address criticisms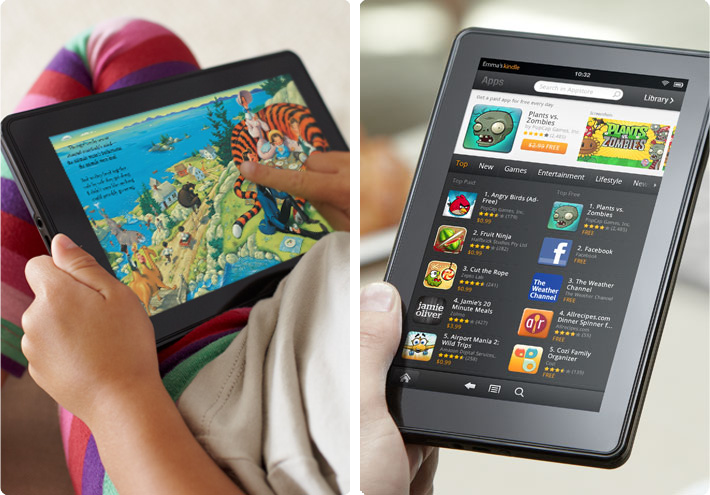 AppleInsider may earn an affiliate commission on purchases made through links on our site.
With Amazon's new Kindle Fire tablet drawing criticisms from consumers and reviewers alike, the online retailer has revealed a software update will arrive in a couple weeks to address some user complaints.
The Kindle Fire, which arrived in November, drew some praise from reviewers for its low price, but it also received ample criticism for being "sluggish and jerky" to the point of being "ornery." AppleInsider published an in-depth review of the device last month, noting that the "deep cuts" Amazon made to achieve the Kindle Fire's $199 price tag may have erased much of the tablet's "potential allure."
The New York Times reported on Sunday that common user complaints include the lack of external volume controls, poor placement of the off switch, long load times for web pages and the lack of privacy on the device. Parents have also complained that the Kindle Fire lacks parental controls, thereby allowing kids to access pornography or make purchases.
Negative feedback on the Fire came to a head last week when usability guru Jakob Nielsen pronounced the Fire's user experience as "disappointingly poor." His report especially took issue with Amazon's Silk browser, calling it "clunky and error-prone."
In an interview with the Times, Nielsen, who co-founded consulting firm Nielsen Norman Group, predicted that the Fire would be a failure. "I can't recommend buying it," he said.
For its part, Amazon is aware of the complaints and is working to address them. Spokesman Drew Herdener told the Times that an over-the-air update for the Fire is coming in "less than two weeks." The update will bring improvements to performance and multitouch navigation and will allow users edit the recent activity list for greater privacy.
The company continues to remain optimistic about the Kindle Fire. It noted late last month that the device has been its best-selling product since pre-orders began, though it declined to provide actual sales figures. CEO Jeff Bezos said in October that the retailer was building "millions more" units than originally planned.
Analysts believe Amazon could ship as many as 5 million Kindle Fires this quarter. Market research firm IHS declared Amazon the No. 2 tablet maker earlier this month, forecasting shipments of 3.9 million units in the fourth quarter.
Piper Jaffray analyst Gene Munster has been tracking customer opinions on Amazon's own website. According to him, the number of customers offering five-star reviews has dipped since Nov. 18, falling from 50 percent to 47 percent. One-star reviews of the device stand at roughly 13 percent.
"I would have expected things to be even worse at this point," he said, adding that the Fire's budget pricing could save it. "Amazon has a lot of air cover to have a B-level product."
Amazon's strategy may be to quickly release an upgraded Kindle after learning from its initial foray into the tablet market. AppleInsider reported in September that the company is using the current 7-inch Fire to test the waters and is planning an 8.9-inch version for next year.
The Times believes that a new Fire model could arrive as soon as next spring. One recent report cited supply chain sources as claiming that an 8.9-inch Kindle Fire would arrive in the middle of the second quarter of 2012.
Nielsen believes next year's upgraded version will be Amazon's last shot at success with the Kindle Fire. "If that's a failure, then the Fire is doomed to the dust pile of history," he said.