Survey finds 70 percent of iPhone loyal and won't switch, 40 percent want 'iPhone 8'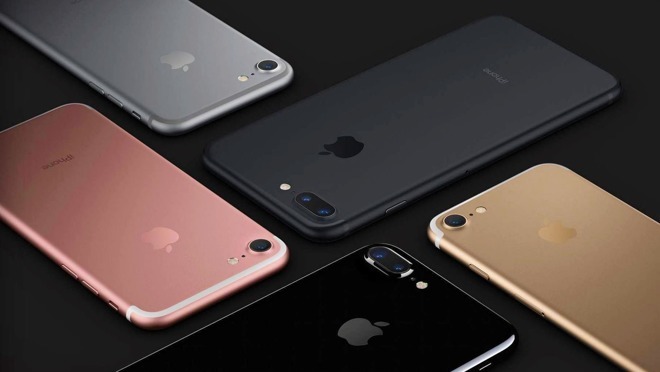 AppleInsider may earn an affiliate commission on purchases made through links on our site.
Approximately 70 percent of iPhone users will not consider purchasing any other smartphone, the results of a recent survey by Fluent reveals, with 40 percent of respondents looking to upgrade to an iPhone planning to choose the upcoming 'iPhone 8.'
According to the Fluent report seen in full by AppleInsider, 34 percent of survey respondents use an iPhone as their primary smartphone, with devices from Samsung and LG following with 26 percent and 14 percent shares respectively. Another 14 percent reportedly use a different brand of Android smartphone, with 2 percent still using Windows Phone, 4 percent using other alternative smartphones, and 7 percent claiming not to own a smartphone at all.
The survey of 2,117 U.S.-based adults found 79 percent of those identified as iPhone owners said they would upgrade to another iPhone, a higher loyalty percentage than Samsung's 63 percent and LG's 39 percent. For those switching over to iPhone, 10 percent of Samsung owners said they would change over for their next purchase, with 13 percent of LG device owners saying they would do the same.
In another measure of the loyalty of iPhone owners, nearly half of those questioned admitted to owning at least 4 iPhones in their lifetime, with 28 percent owning at least 5 iPhones, and 17 percent claimed to have owned 6 or more iPhones. Only 15 percent said they had owned a single iPhone.
Of the 70 percent who said they would not consider buying another phone other than iPhones, 67 percent believed it was the best smartphone on the market, while 41 percent said they were used to iOS and didn't want to switch, and 41 percent liked Apple Support.
The Apple and iPhone branding is important to iPhone owners, with 25 percent claiming it to be the most important element when deciding to purchase a smartphone, compared to 17 percent for Samsung owners. While features and the operating system scored 21 percent and 16 percent respectively, only 29 percent of iPhone owners said price was the most important, with the number rising to 34 percent for Samsung users and 39 percent for those with LG smartphones.
In another survey conducted by Fluent in July, Apple was shown to have one of the highest loyalty and satisfaction rates among major corporate brand from U.S. consumers, achieving a 91 percent loyalty score and 85 percent for satisfaction from respondents.
As for the looming iPhone refresh expected next month, 40 percent of those planning to buy an iPhone as their next smartphone are likely to go for the "iPhone 8." The "iPhone 7s" and "iPhone 7s Plus" were also well represented, with 19 percent preparing to buy the "Plus" version for their next device, and 17 percent wanting to purchase the standard "7s" model.
Despite the high proportion wanting to get an "iPhone 8," prospective owners are seemingly willing to wait for the initial rush for the device to be over, with 9 percent planning to get one on launch day, and 7 percent doing so one month after launch. Of the remainder who roughly knew when they would look to acquire an "iPhone 8," 16 percent are prepared to wait until later in 2017, and 39 percent plan to do so sometime in 2018.
The reportedly high pricing for the "iPhone 8," which could start from as much as $1,000, may be putting off some customers. Of those who say they are planning to buy an "iPhone 8," 13 percent say they will definitely purchase it if it is sold at that price, with another 29 percent uncertain, but saying they may still buy it.
If Apple comes out with hypothetical "limited edition iPhone 8" priced at $1,400, the number of willing buyers shrinks down to 8 percent. A further 22 percent said they would consider the purchase.
When asked if they think of the rumored $1,000 base cost for the "iPhone 8," 67 percent of those planning to get an iPhone in the future said it is too expensive, while only 12 percent say it is rightly priced. Fluent suggests these are not necessarily an "indicator of future action" due to the strong loyalty of the iPhone user base, and though consumers may be unhappy with a price hike, services such as deferred payment plans offered by carriers may still entice them to upgrade.
This view of consumers paying for higher cost devices mirrors an investor note from Barclays about the "iPhone 8," published earlier this month, with a survey claiming 85 percent of respondents were willing to pay more than they did a few years ago. The data revealed customers are willing to spend an average of $48.50 per month on a 12-month device installment plan - with device turn-in for a newer model the following year.
In the same Barclays survey, the number of all smartphone owners across all brands willing to pay more than $1,000 for a new device is just 11 percent. This is a slightly lower figure than Fluent's data, which only asked those planning to buy an iPhone as their next device, rather than covering all smartphones.