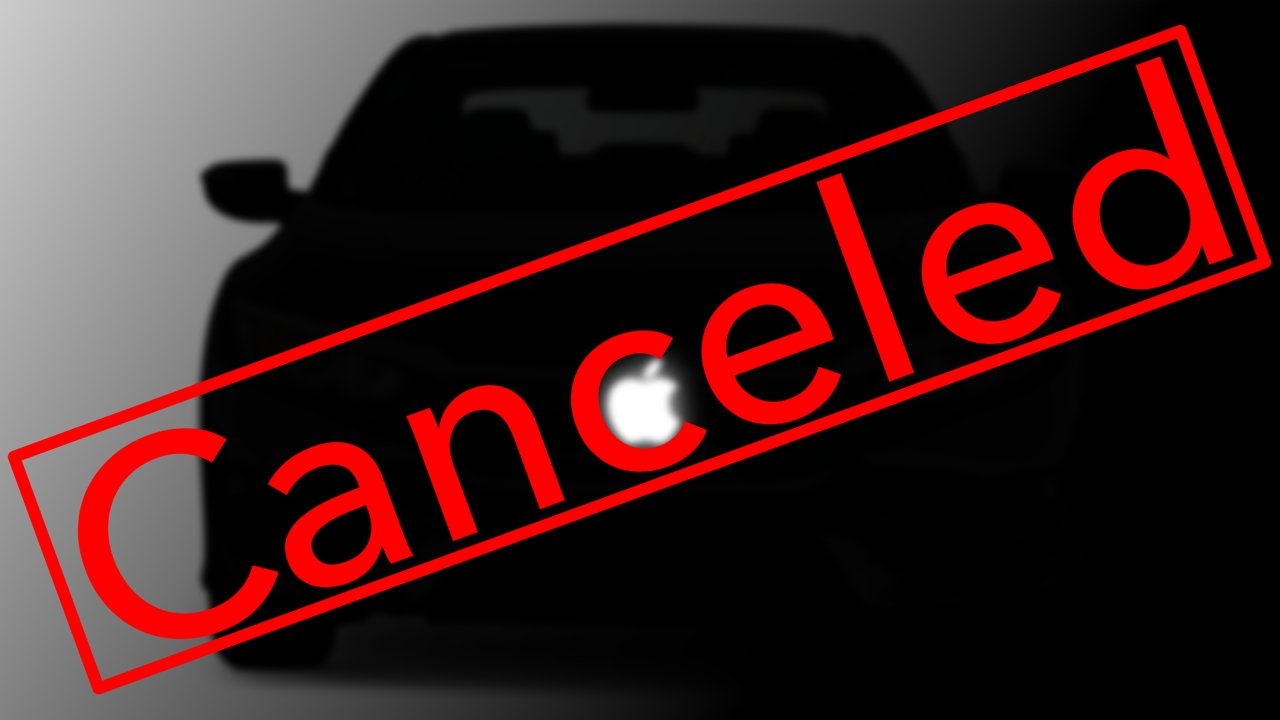 Summary
Apple is believed to be working on an electric vehicle project that it plans to launch a few years down the road. The top-secret project is said to be in the works at a hidden lab named "SG5" in Sunnyvale, Calif. Internally, the effort is believed to be known as "Project Titan." Towards the end of 2016, it appeared Apple was scaling back its development efforts, but it is likely to still be working on the project.
Features
● Apple-designed electric car
● Self-driving in the works, but possibly not for first model
● Launch not expected until 2021
● Known as "Project Titan"
● Development personnel faced major scale back in 2016
● Project faced leadership turmoil regarding direction
● Self-driving tests conducted on roads in early 2017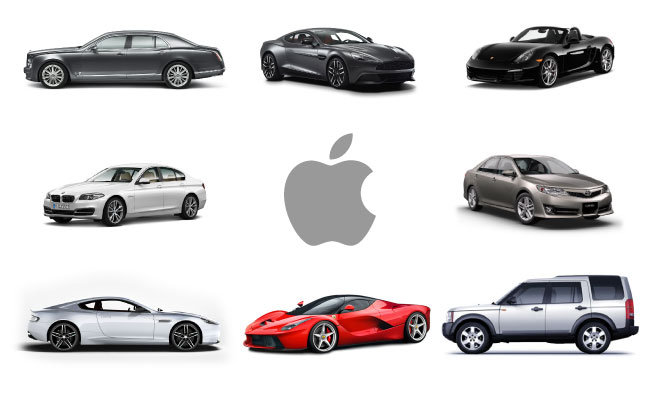 Cars driven by Apple executives.
Apple is believed to be working on a secret automotive project at a facility known as "SG5" in Sunnyvale, Calif., under the cover of a shell company named "SixtyEight Research."
According to reports as of October 2016, Apple seems to be scaling back on the project to focus on self-driving technology – specifically giving it the opportunity to either partner with an existing automaker or return to developing its own car later on.
Sources exclusively told AppleInsider that work is underway at a site located off of Apple's Cupertino campus, just minutes from 1 Infinite Loop. An investigation confirmed that Apple does indeed have a large presence at the location, and numerous automotive-related renovations, including an "auto work area" and a "repair garage" that have been constructed at the premises. At least one neighbor has complained about motor noises late at night.
In July 2014, the city of Sunnyvale approved Apple plans to establish an "auto testing center" separate from the SG5 facility, intended for testing "new electronic technologies that are integrated into high-end cars."
It is also believed that Apple is doing some work on the project in a research facility in Switzerland. A report in March 2017 claims at least 10 doctoral and postdoctoral students from ETH Zurich have left the university for the lab, with a number of the recruits specializing in computer vision, robotics, and visual navigation.
NHTSA letter showcases interest in autonomous vehicle testing
In perhaps the most public admission of its automotive ambitions, Apple in a statement issued to the National Highway Traffic Safety Administration in November 2016 proposed a policy update that would grant industry newcomers the same opportunities as established manufacturers when it comes to testing on public roads.
Specifically, Apple director of product integrity Steve Kenner said the Federal Automated Vehicles Policy paves a safe and flexible path toward the development of automated vehicles, but suggests proposed regulations could be more open for companies new to the industry.
The letter mimics offhand affirmations from Apple CEO Tim Cook that the company is interested in bringing machine learning and automation tech to the personal transportation arena. The letter goes much deeper, however, outlining specific areas of attention and potential regulation modifications that suggest Apple has been investigating the space for some time.
Kenner says at least three ethical dimensions require attention: implications of artificial decision making on safety, mobility, and legality; ensuring privacy and security in automated vehicle design; and the impact driverless vehicles will have on the public good, for example employment.
Kenner also suggested open sharing of anonymized data from crashes, near-misses and similar incidents toward the construction of a comprehensive dataset to be accessible by all industry players.
Alexander Hitzinger formerly of Porsche and now said to be working on "Project Titan."
Major Staff Cutbacks, Major Hires
Initial reports said Apple would have an an internal target ship date of 2021 for an electric car, but some rumors claim the first-generation model won't be a self driving vehicle. The project was said to have over 1,000 people working on it, but has faced recent cuts. One of the project's original leads, Steve Zadesky, has allegedly left the company, possibly replaced by Tesla's VP of Vehicle Engineering Chris Porritt. In July 2016, long-time Apple executive Bob Mansfield was rumored to be in charge on a part-time basis after senior VP of Hardware Engineering Dan Riccio was given control of the project.
In general, hundreds of people on the "Project Titan" (see below for more information about the project itself) team have either left on their own, or been reassigned or cut. The remaining staff have allegedly been given a late 2017 deadline to prove the practicality of the self-driving technology, at which point the company is expected to decide on a final direction.
The first round of layoffs is said to have hit in August 2016, followed by another in September. Over 120 software engineers working on a car OS and testing procedures were tossed, and several hundred hardware engineers working on things like a chassis, suspension, and an undercarriage vanished. The people still on Titan are said to be crafting not just self-driving code but sensors and simulators for real-world testing.
John Wright —an experienced Apple manager who led software efforts —is now gone, while Dan Dodge, the creator of BlackBerry's QNX car platform, assumed a bigger role in developing Apple's platform architecture.
However, one big hire that came in 2016 was Porsche's race program lead, Alexander Hitzinger, was allegedly brought on to Apple's "Project Titan" car program. Initial reports say that he was brought on to do something "which has a significant and direct impact on society." While at Porsche, Hitzinger returned the company to endurance racing, and assisted in development of the 919 hybrid sports car. Hitzinger's command led the company to Le Mans and endurance racing world championships in 2015 and 2016.
In March 2017, Apple appeared to be ramping up its efforts by setting up a research lab in Switzerland, staffed by recruits from ETH Zurich who specialize in computer vision, robotics, and visual navigation. A local report claimed the university's Professor of Autonomous Systems Roland Siegwart said five of his specialists had left for multinational organizations, but couldn't confirm the existence of Apple's R&D facility.
A group of four formerly employed by NASA are reportedly working on Apple's automotive efforts, specifically its autonomous driving software. According to a Wall Street Journal report in April, three engineers testing Apple's project previously worked at NASA's famed Jet Propulsion Laboratory, including work on 3D object detection and motion planning algorithms.
Another test operator is said to have worked on earlier efforts by automotive supplier Bosch to create a self-driving car, and also has experience making autonomous wheelchairs drive more smoothly.
On August 24, Apple was reported to be hiring more staff for its self-driving project. The report from Business Insider cited a source familiar with Apple's technology and that of other similar self-driving platforms, with the new hires said to be focused on people who have experience in producing autonomous car software.
A report from August 30 claims Apple has lost 17 engineers from its automotive projects to the self-driving startup Zoox. Bloomberg wrote the engineers were previously picked up by Apple from traditional car makers, and include employees specializing in braking, suspension, and other mechanical automotive systems.
Report sources claim the engineers departed after finding themselves less engaged with the projects than they had previously. This may be linked to Apple's dialing back of the car plans, in favor of concentrating on self-driving systems.
"Project Titan"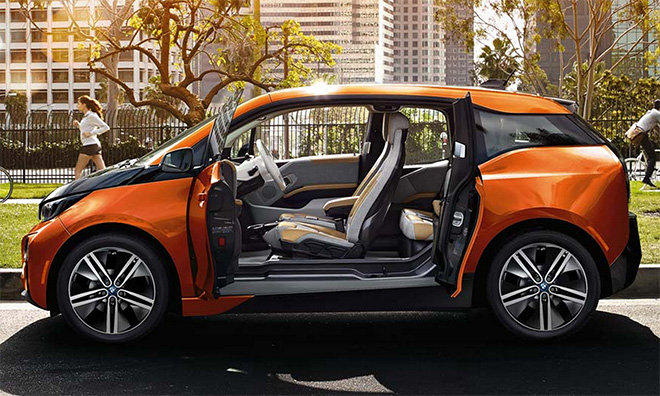 BMW's i3 commuter car.
Initially, "Project Titan" was rumored to involve an Apple-made electric car delivered by 2019 or 2020. Towards the end of 2015 however the program experienced "an incredible failure of leadership," according to one source, in which managers fought over where Titan was going. Project leader Steve Zadesky left earlier this year.
The design and technology behind "Project Titan" remain very much in flux, sources have said, with Apple at one point considering using BMW's i3 as the basis for its project. Apple and BMW have held talks about a potential partnership, though recently it was reported that both BMW and Daimler have ended talks with Apple over who might lead the project and own data.
One German report indicated that Apple has a secret car lab in Berlin, staffed by about 15 to 20 "top-class" people from the German auto industry working on issues like vehicle concepts, manufacturing partnerships, and sales/governmental obstacles. A possible manufacturer is the Austrian division of Magna Steyr.
In May 2016, Mansfield is said to have announced the new Titan strategy "in a Silicon Valley auditorium packed with hundreds of Titan employees," explaining that after an evaluation, he decided Apple shouldn't compete directly with Tesla, which already has several electric cars on the market and is working steadily towards full self-driving systems.
The original vision of a car that would detect its driver via fingerprint and then drive them anywhere has transitioned to a partially autonomous car to now something more ambitious. However, another factor that may have pulled Apple away from its own car is the automotive supply chain. While Apple is used to being able to exert heavy control over suppliers for devices like the iPhone, the company may have discovered that auto parts makers would be less eager to commit to an Apple vehicle, given the deeper expenses involved, and Apple likely producing vehicles in small initial numbers.
The company is meanwhile said to be developing charging infrastructure by hiring engineers and talking technology with firms that supply charging stations. An unknown engineering and construction firm has reportedly approached Apple about offering services.
In March 2017, a report claims the Chinese ride-hailing service Didi has set up its own self-driving car lab in California, considered a major expansion for Didi's physical operations, which are kept mostly within China. Thought to work on intelligent driving systems and AI-based transportation security, the lab is apparently staffed by a number of major figures in the robotics, AI, and engineering fields.
It is noted that the new facility is located in Mountain View, extremely close to Apple's Cupertino headquarters. While Apple did make an investment of $1 billion into Didi last year, there has yet to be any direct connection found between the new research center and Apple's own car-related projects.
In March 2018, analyst Robert Cirha of Gugenheim advised it is likely that Apple will decide to be "all-in or all-out" of self-driving cars by 2020. Noting Apple's significant investment in the field as the "mother of all AI projects," he advises Apple has yet to commit to a car.
Due to Apple's "entire business model based on vertically-integrated control," Cirha believes it's unlikely Apple will offer modular AI to third-party firms, which would put Apple back on the path of producing an entire car. If Apple does, the analyst advises the firm would still need to expand its interest from its collection of experta to include partners with sufficient manufacturing capacity for the vehicles, create a support structure that can cope with far longer upgrade cycles, and the already-established competition.
Sixty-Eight Research
Evidence uncovered by AppleInsider suggests that a shell company known as SixtyEight Research may be a cover for Apple to help conceal its true operations at the Sunnyvale garage.
SixtyEight Research has a limited online presence and renovated its facilities to add a "repair garage." This, accompanied by sources who say it's located in the office complex is where Apple is working on its secret electric car project, has led to speculation that Apple is using SixtyEight as a cover.
Further adding intrigue to the mystery, "SixtyEight LLC" was registered as a company last year in California, and imported a 1957 Fiat Multipla 600 from the U.K. into the U.S. Apple's chief designer Jony Ive is known for having an affinity for Fiat's designs, and he and co-designer Marc Newson auctioned off a Product(RED) Fiat 600 back in 2013.
Patents and Applications
One of the few pieces of documentation proving Apple has worked on autonomous vehicles, a patent application surfaced in December 2016 detailing a method of "Collission Avoidance of Arbitrary Polygonal Obstacles."
Able to work in two-dimensional and three-dimensional space, the patent application outlines systems and methods to traverse an environment, without prior knowledge of obstacles. This also takes into account convex and concave objects, moving and stationary obstacles and other things that can affect movement through an area.
While at first glance this may seem like something used by game programmers for in-game elements to move through a level, game developers are typically aware of all potential obstacles in an area, knowledge the intelligent agents described in the application do not have.
The patent application would certainly apply to the field of robotics, and especially that of self-driving vehicles. While roads can be mapped, the sheer quantity of extra information required to record obstacles, such as walls and signposts, would be too vast to capture and use by a self-driving system.
Moving obstacles, including cars and other vehicles, are also unpredictable in their movements, requiring an on-the-fly navigation system such as the one described by Apple. Such systems are also extremely limited in terms of their view of the road from onboard cameras, the range of sensors, and the amount of time for planning manoeuvers, making the need for an effective method to make navigational decisions a necessity.
DMV Permission
On April 14, the California Department of Motor Vehicles added Apple to the list of companies granted permission to test self-driving vehicles in the state, a sign that Apple could still be working on "Project Titan."
The granting of the Autonomous Vehicle Testing Permit allows Apple to take a self-driving car onto public roads, with companies unable to legally perform such testing without the permit. Apple is believed to have met with the state's DMV in 2015, possibly in discussion of gaining permission for on-the-road testing, but is thought to have continued testing in the meantime on private property.
It has been discovered Apple's permit covers three vehicles, all Lexus RX540h SUVs, with six drivers serving as backup in case the onboard systems encounter problems. Considering the use of Lexus SUVs, it is likely that Apple is testing its sensing and AI technology, rather than an entirely new vehicle.
One reason for using existing vehicles for these tests is that driving a new design of car that Apple has created would spoil the surprise for its launch. Publicly showing off a new vehicle design would also directly hand ideas to other car manufacturers, potentially allowing them to innovate on Apple's car before it is unveilled.
As part of its application to the California DMV for permission to test self-driving cars, Apple provided the government agency with documents meant to train potential safety drivers, before the vehicles are taken out onto public roads.
The "Development Platform Sepecific Training" documents reveal the drivers must pass basic tests before being allowed to set off, with the tests ranging from basic maneuvering to vehicle systems intervention. This includes low-speed and high-speed driving, U-turns, sudden steering input, sudden acceleration, braking, and managing "conflicting turn signal and action" events.
When the vehicle is not being controlled by software, drivers are able to electronically take the wheel via drive-by-wire technology, using a Logitech steering wheel and pedal system fitted in front of the Lexus RX450h's drive controls. Pilots can disengage the autonomous driving system by pressing the brake pedal or grabbing the steering wheel, and should be able to accelerate without overriding the system at all.
The reports that followed being granted permission to test, as well as other coverage of self-driving projects, has prompted Apple to write to the DMV, asking for clarification to changes tothe way it reports events.
Specifically, Apple wants clarification on "disengagement reporting," which are reports generated when the safety driver disengages the self-driving system, such as to avoid accidents or to manage unexpected events. Apple wants to tighten up these reports, as well as to exclude details of planned tests, the end of testing, operational constraints, and other discretionary decisions performed by the the driver.
Apple also asks not to speculate "about future events that have not occured" when reporting incidents that would have happened if the driver had not disengaged.
"Apple believes that public acceptance is essential to the advancement of automated vehicles. Access to transparent and intuitive data on the safety of the vehicles being tested will be central to gaining public acceptance," writes Apple Director of Product Integrity Steve Kenner. "However, the current and proposed disengagement reporting requirements do not achieve this result."
Apple aslso asked for clarification in language surrounding the safety driver's role during testing and development, as well as the removal of duplicate language excluding commercial vehicles from testing in multiple sections of the test authorization.
On-The-Road Testing
Photographs and a short video of a vehicle used by Apple for its self-driving car test surfaced in late April 2017, with a source of Bloomberg said to have spotted the car departing an Apple facility.
The photos confirm Apple is taking the approach to testing as described in its DMV permission documentation, namely adding extra equipment to a pre-existing vehicle. The images confirm the use of a Lexus RX450h, colored in white, with a number of extra items bolted onto the car.
On the SUV's roof is a Velodyne LiDAR 64-channel unit, bolted to a custom frame, and radar arrays are mounted onto the front and rear bumpers. Cameras in protective housings surround the car's exterior, potentially providing the self-driving system with a 360-degree view of its surroundings.
Notably, while the testing documents advised of the use of a Logitech steering wheel and pedal system, the test vehicle itself does not appear to use these items at all. This suggests the extra wheel was just for evaluation purposes, or that Apple has managed to get its self-driving technology working with Lexus' onboard systems, leaving the steering wheel free to be used by the test driver.
A road user spotted what could be an updated version of Apple's self-driving testbed on August 25, with photographs provided to MacRumors. The vehicle was reportedly parked outside of an Apple office in Sunnyvale, California.
It appears from the photographs that Apple is using the 2016-2017 Lexus RX450h, a newer model of the 2015-edition vehicle previously used for testing. Also noticable is a change in the positioning of the equipment to fit entirely on the roof of the vehicle, with upgrades and a new look also applied to the test bed.
Though difficult to specify what equipment is being used, it seems that Apple is using a new Puck LiDAR sensor from Velodyne, a 16-channel unit that can log 300,000 points per second at a range of up to 100 meters. A total of 14 Pucks appear to be mounted to the car, with four facing forward, two behind, and two at each corner.
Other equipment also seems to include various cameras, a GPS unit with antenna, radio communications equipment, and a distance measuring system. Aside from the central sensor array, five yellow-capped sensors are visible, which could be compact radar arrays to assist the main sensing system.
As of January 2018, the state of California has permitted Apple to have 27 self-driving cars running on public roads. While a huge leap from the three Lexus vehicles from April 2017, it is still far behind the large fleets operated by competing firms.
In February 2018, the California DMV received approval from the California Office of Administrative Law to set regulations in place to allow companies to test remotely operated autonomous vehicles on public roads. From April 2, the DMV's public testing framework allows for self-driving cars to go on the road without a driver behind the wheel, instead with human "remote" drivers monitoring the drive using a communications link, ready to take control of the car from the onboard systems in the event of an emergency.
U.S. Government Policy Discussions
As with any major new technology that can affect millions of people, governments have taken interest in the advances, with a U.S. House Energy and Commerce subcommittee looking at potential changes to laws that could affect testing of self-driving systems, including Apple's.
In June 2017, a draft package of 14 bills were proposed that would change federal rules to help facilitate self-driving testing on the roads. These include enabling the National Highway Traffic Safety Administration to exempt up to 100,000 vehicles from federal safety rules that bars cars without human controls.
More notably and controversially, the package would also block states from setting up their own rules for self-driving vehicles, and the NHTSA would no longer assign pre-approval for related technologies. In theory, this state-blocking move would prevent a "patchwork" of rules differing between states that manufacturers would have to take into account when producing self-driving vehicle systems, keeping the rules the systems would have to abide by the same across the country.
It is thought the committee could approve a bipartisan version of the bill package by the end of July 2017, though at the time of writing, President Donald Trump has yet to nominate a candidate to run the NHTSA that would create the rules and govern their administration.
On July 19, the committee tentatively voted to move forward with the proposal, though it may undergo some changes before the full committee votes later in the month. One possible addition could be language that would allow states to block automakers from selling directly to the public, a subject that auto dealers are keen to include within the package, and one that is already hampering Tesla from selling its vehicles in some states.
The U.S. House of Representatives voted to approve propsals that could accelerate testing and the deployment of self driving cars on September 6. The proposal would allow automakers to deploy up to 25,000 vehicles bypassing normal safety standards in its first year, rising to 100,000 in the third year.
The bill still has to go to the Senate for debate. The Senate has already worked on its own legislation on the subject, via the U.S. House Energy and Commerce subcommittee, so it will have to take the House of Representative bill's contents into account.
Potential Partnership With Hertz
A June 26 report from Bloomberg claims Apple will be partnering with rental car provider Hertz, in order to test out its self-driving vehicle systems. While such systems would have a commercial use for rental cars, such as vehicles automatically driving back to a rental outlet and saving customers from driving them there themselves, it appears the partnership is mostly for testing purposes only.
Apple will apparently lease a "small fleet of cars" from Hertz subsidiary Donlen for these driving trials, with the Lexus RX450h SUV specifically leased due to the model already being used by Apple for the project. A later report from CNBC claims Apple is leasing just six vehicles from Donlen, a small number, but one that would effectively double the number of vehicles Apple will be testing on public roads.
It is unclear if the vehicles will be used just by Apple's nominated drivers only, or if Hertz customers could be able to rent the vehicles in question with the driving system installed.
Battery Research
A report from Yicai Global on July 20 claims Apple is working with Chinese firm Contemporary Amperex Technology (CATL) to research and develop new batteries for automobiles. Few details about the confidentiality agreement were reported, with CATL officially refusing to comment.
While it is thought Apple has pivoted "Project Titan" from a full electric car to just the self-driving elements, this new agreement could be a sign the Cupertino company is still working on its automobile, if it is genuine.
Battery research would be an essential part of any electric car development effort, due to it helping to dictate the speed and power of a vehicle, as well as the potential driving range and the time it takes to recharge. Main potential competitor Tesla has already put in considerable research into batteries, with the 200-mile plus range of its vehicles powered by batteries sourced from Tesla's own Nevada-based Gigafactory.
Campus Shuttle Tests
On August 22, the New York Times reported Apple was working with an established automaker on a self-driving shuttle testbed. In this case, Apple is said to be providing the autonomous driving technology, while the car manufacturer provides the commercial vehicle fleet.
The project will apparently carry Apple employees between Silicon Valley offices, with the Palo Alto to Infinite Loop route giving the scheme the name PAIL. It is unknown when the vehicles will hit the road but it is likely to be a welcome addition for employees working at the soon-to-open Apple Park campus.
Essential Reading